A massive metropolis, Milan is most known for its swanky shops, stunning cathedral and rich cultural scene. Although it is not considered beautiful by Italian standards, it has lots of impressive old churches and excellent art museums for visitors to enjoy.
Long an economic powerhouse and major political center, it lies at the heart of Italy's northern Lombardy region. Thanks to the untold riches pouring in, the affluent city has developed a world-class reputation for the arts, fashion and opera. Alongside all its art-filled museums, you'll therefore find glamorous designer boutiques and stylish shopping arcades to peruse.
See also: Where to Stay in Milan
A fascinating mix of old and new, the sprawling city contains both interesting historic sites and soaring skyscrapers. With attractions in Milan like the Duomo Cathedral, La Scala and Leonardo da Vinci's The Last Supper it's no wonder that Milan is Italy's third most visited city after Rome and Venice.
When putting together a list of things to do in Milan, keep in mind that many businesses and shops close during the month of August. As this tends to be the country's hottest time of the year, many locals and proprietors go on holiday during this time.
In this post, we'll cover:
23. Museo Poldi Pezzoli
Full of fantastic paintings, fine furnishings and amazing old armaments is the Museo Poldi Pezzoli. Oft-overlooked by visitors to the city, its extensive collection lies just up the road from La Scala and Il Duomo.
The first private museum in Italy, its arresting artworks were assembled by the Italian count and art connoisseur Gian Giacomo Poldi Pezzoli. In 1881, they were finally put on show for the public in his stately Neoclassical-style palace. Ever since then, it has rightfully been lauded for its remarkable Renaissance paintings and incredible works by the Flemish masters.
On display in its pretty rooms are not just masterpieces by Botticelli and Brueghel the Younger but Canaletto and Cornelis de Wael too. Historic weapons and armour also feature as do glittering jewellery, ceramics and glassworks. To top it all off, the palace itself has spectacular staircases, fountains and painted ceilings for you to admire.
22. Gallerie d'Italia
Just a stone's throw away is another outstanding art museum to check out: the grand Gallerie d'Italia. Focused instead on modern and contemporary art pieces, its three, lovely historic buildings line one side of the picturesque Piazza della Scala.
Only established in 2011, its innumerable works are spread across Palazzo Brentani, Palazzo Anguissola and Palazzo della Banca Commerciale Italiana. All Neoclassical in style, they contain some absolutely stunning halls and galleries, showcasing ornate ceilings, chandeliers and stained-glass windows.
Its collection covers the last 200 years of Italian art history with small plaques providing more insight into each artist and painting. Topics touched upon are perspective and the poetry of art, allegory and Lombard landscapes among others. It also has a lush, green, sculpture-filled garden for you to amble around afterwards.
21. Pirelli HangarBicocca
For a completely different artistic experience, head to the vast and hugely interesting Pirelli HangarBicocca on the northern outskirts of the city. Unlike the other museums we've seen so far, it displays massive works on a monumental scale seldom seen.
Once an industrial estate, its dilapidated old factories were converted into the current art museum back in 2004. Their expansive, open spaces and soaring ceilings are the perfect place to showcase cool, creative installations.
While temporary exhibitions of giant sculptures, photos and videos rotate all the time, the real showstopper is The Seven Heavenly Palaces. This permanent piece has seven teetering towers to stroll around, all seemingly ready to fall at a moment's notice. Designed by German artist Anselm Kiefer, the collection's immense size and the seemingly endless space used makes for awe-inspiring viewing.
Although it is set quite far out in the Bicocca part of town, we'd still highly recommend the museum. After all, it's not every day you can see such unusual, thought-provoking pieces produced on such a mammoth scale.
20. Leonardo da Vinci Museum
Much closer to the center of Milan is the very highly-rated Leonardo da Vinci National Museum of Science and Technology. Occupying the ancient monastery of San Vittore al Corpo, it hosts countless artifacts and exhibits dedicated to science and technology.
The largest museum of its kind in the country, it was inaugurated in 1953 by the then Prime Minister Alcide de Gasperi. While some sections focus on communication and transport, other interactive exhibits look at energy, acoustics and innovation. Gigantic galleries also have all kinds of amazing old trains, planes and automobiles to inspect.
The highlight though has to be its numerous rooms that explore the life and legacy of Leonardo da Vinci. Besides presenting his impressive achievements and inventions, it has reproductions of his famous tank and flying machines to wander around. Ideal for a rainy day, the museum lies right near Santa Maria delle Grazie where Da Vinci's The Last Supper is displayed.
19. Museo del Novecento
Offering up both exquisite artworks and epic viewpoints is the Museo del Novecento. Looking out over Il Duomo, its galleries present the evolution and development of art in Italy during the twentieth century.
Housed in Palazzo dell'Arengario – a striking complex of Fascist-era buildings – it was first opened in 2010. In chronological order, its exhibitions take you from international avant-garde movements and the Novecento movement founded in Milan to Abstract Art, Art Informel and Pop Art. Prominently featured Italian artists are Lucio Fontana, Amedeo Modigliani and Umberto Boccioni among others.
Very well-presented and laid out, the museum's 400 works also include masterpieces by Kandinsky, Picasso and Klee. Before heading off, head to its top floor for majestic views over Il Duomo from its big windows.
18. Bosco Verticale
Instantly recognisable, the beautiful Bosco Verticale are some of Milan's most famous modern buildings. At the residential complex, you can snap pics of their plant-coated exteriors and amble about the well-kept park down below.
Part of the affluent Porta Nuova district, the unique, eye-catching architectural project was completed in 2014. Meaning 'Vertical Forest' in Italian, its enormous apartment blocks are an imaginative attempt at eco-friendly, sustainable city living. Towering 84 and 116 metres in height, the skyscrapers have won international awards for their ingenious design.
Across the two residential towers, over 900 trees and 15,000 plants bristle from their umpteen balconies. Standing out against the sky, their huge wall of green makes for quite the sight, particularly in summer and spring.
17. Piazza Gae Aulenti
Right next to it is another sleek and stylish tourist attraction in Milan known as Piazza Gae Aulenti. Surrounded by sparkling skyscrapers, the square has numerous restaurants and shops to visit, centred around a twinkling water feature.
Very different from the rest of Milan, the gleaming piazza is appropriately named after Gae Aulenti – one of Italy's most prominent architects. Its massive, modern buildings all have unusual shapes and surprising designs, yet remain completely harmonious with one another.
Aside from admiring the high-rises' glinting facades, you can hang out by the fountain or stop for a coffee and shop in its underground shopping complex. Along with Bosco Verticale, we really enjoyed its interesting architecture and the contrast it creates with the city's historic centre.
16. Sempione Park
After having seen so many artworks, old buildings and architectural marvels, strolling about Sempione Park makes for a very pleasant change. Covering a ginormous part of the city center, its lush, landscaped gardens lie right next to Sforzesco Castle.
Developed and designed by architect Emilio Alemagna, the vast public park was first opened in 1888. Meandering their way about its pretty ponds and woods are plenty of paths to walk and cycle along. Scattered about too are tons of ornate sculptures and fountains with concerts also taking place here in summer.
At the entrance is the impressive Arch of Peace which is covered in brilliant bas-reliefs and topped by triumphant figures riding a chariot and steeds. The steel Torre Branca also attracts lots of attention due to its 108 meter-high viewing platform. From the top, you can drink in delightful panoramas over the city, gardens and park below.
15. Santa Maria presso San Satiro
Despite its smallish size, Santa Maria presso San Satiro is certain to astound with its elegant interior and ingenious optical illusion. Situated just a few minutes walk from Il Duomo, the fifteenth century church is certainly well worth a quick stop.
Initially appearing much larger than it is, the Renaissance-style structure is renowned for its remarkable false apse. Thought to have been installed by Donato Bramante, it is an incredible early example of trompe-l'œil architecture. Thanks to the perspective he used, the church seems to extend many meters further than it actually does.
Other than ogling at his extraordinary artistry, you can always examine the rest of the church's glimmering treasures. Beneath its dome, adorning its walls and alcoves are loads of lovely statues, paintings and Byzantine frescoes to take in.
14. Villa Necchi Campiglio
On the northeastern outskirts of the historical center is yet another of the city's many outstanding museums to check out. This time, Villa Necchi Campiglio has a very fine collection of decorative arts, paintings and period furniture for guests to peruse.
Surrounded by gorgeous green grounds, the refined Art Deco villa was built by Piero Portaluppi in the 1930s. Now a historic house museum, its art-filled interior really is a treat to explore. This is because each room is delightfully decorated with old antiques and artworks.
On show are expertly-crafted furniture pieces and fabulous tapestries from centuries gone by. Lavish chandeliers, carpets, candlesticks and clocks tie the rooms together and create a cohesive look and identity for each one. Make sure to pick up an audio guide at the entrance to learn more about the estate's attractive art and architecture.
13. San Siro
One of Italy and Europe's most iconic stadiums, the San Siro is home to both AC Milan and Inter; two of the country's top teams. Watching a football match here really is one of the most unforgettable things to do in Milan as their fanatical fans create such a raucous atmosphere.
Officially known as the Stadio Giuseppe Meazza, the absolutely enormous arena was inaugurated in 1926. Over the years, it has been renovated various times and hosted countless high-profile games, including some at both the 1934 and 1990 World Cups. Propped up by sturdy, circular concrete towers, the ginormous stadium also has tours and a museum to stop by.
If you have the chance and either team is playing, you just have to watch a match if you can. Watching AC Milan with their ultras while waving giant flags was certainly an experience we'll never forget. We'd probably advise buying tickets in another section of the stadium though as some of them did look pretty intimidating!
12. Monumental Cemetery
Home to endless rows of elaborate tombs, temples, obelisks and sculptures is Milan's Monumental Cemetery. An artistic treasure trove, its grand graves can be found right next to the Milano Porta Garibaldi train station and Piazza Gae Aulenti.
Since being founded in 1866, the necropolis has grown considerably with many of the city's most famous, influential and important residents now buried here. Once past its stupendous marble and stone Neo-Medieval entrance, you have loads of statue-lined paths to stroll along.
Among the most dramatic mausoleums are those of both Antonio Bernocchi and the Campari family. While the former is in the shape of a tower, the latter depicts The Last Supper. Alongside many Mayors of Milan, scores of opera singers, artists, politicians and football players have their final resting place here.
For us, its fascinating tombs and fantastic architecture easily put it up there with Père Lachaise in Paris and La Recoleta in Buenos Aires. One of our favorite stops in the city, the cemetery's sculptures were just as good as any we saw in its museums and churches.
11. San Maurizio
Having said that, the scenes on show in San Maurizio certainly give the cemetery a run for its money. Lying in between Santa Maria and Il Duomo, the large church has some simply phenomenal frescoes for you to enjoy.
Built back in the sixteenth-century, it was once part of a Benedictine monastery which now houses the superb Civic Archaeological Museum just next door. Often called the 'Sistine Chapel of Milan', it is rightfully lauded for the riveting religious scenes painted on its walls.
A veritable feast for the eyes, their larger-than-life characters coat every single corner of the enchanting old church. Almost as bright today as when they were first painted, its saints and martyrs make for some fabulous photos. The work of Bernardino Luini, his sons and Simone Peterzano, the unique masterpieces are a must-see in Milan.
10. Piazza Mercanti
Hemmed in on all sides by elegant palazzi and attractive old buildings is the medieval Piazza Mercanti. Aside from admiring its fine architecture, visitors can attend some of the markets and community events that take place here.
Located right next to Il Duomo, the small square served as the heart of the city in the Middle Ages. It was here that cobblers, goldsmiths, seamstresses and bakers would ply their trade or hawk their wares, before the beautiful buildings.
On the southeastern side is the Loggia degli Osii where the city's authorities once addressed the populace from the structure's balconies. A terrific sixteenth-century pit framed by two pillars also lies in front of their fetching facades and photoworthy arcades.
While you can just spend a couple of minutes here, the piazza has lots of interesting, hidden features to try and find. These include a woolly boar bas-relief – Milan's oldest symbol – and other engravings, emblems and animal decorations. Art exhibitions and small handicraft markets are also held here from time to time.
9. Pinacoteca di Brera
Also within walking distance of Il Duomo is the Pinacoteca di Brera; one of Italy's best art museums. Housed in a former monastery are hundreds of stunning paintings and sculptures, created by Caravaggio, Raphael and Rubens among others.
Once a Jesuit college and convent, the sublime Renaissance-style Palazzo di Brera has remarkably hosted the Academy of Fine Arts since 1776. Over the centuries, its collection has expanded considerably with it now being particularly renowned for its masterpieces from Northern Italy.
Very rewarding to amble around, its galleries also show striking portraits, landscapes and scenes by El Greco, Titian and Tintoretto. After taking in Raphael's The Marriage of the Virgin and Rubens' Last Supper – two of its principal pieces – don't forget to see the palace's tranquil garden outside. Its colourful flowers, trees and pools feel a world away from the busy streets outside.
8. Basilica di Sant'Ambrogio
Every bit as breathtaking is the arresting Romanesque architecture of the Basilica di Sant'Ambrogio. One of the oldest buildings in Milan, its charming complex lies not far from both Santa Maria delle Grazie and the Science and Technology Museum.
Founded in 379 by St. Ambrose, now the city's patron saint, the current appearance of the church dates to the twelfth-century. Flanked by two tall towers of dramatically different heights, its enormous entrance portico leads onto an elegant courtyard lined by arcades.
Long an important centre of religious life, it contains many magnificent mosaics and masterfully-carved pulpits, sarcophagi and stone capitals. Other than snapping some photos, you can gaze up at the oratory's gold-clad ceiling and explore its crypt. Many also pay their respects to St. Ambrose and stop by the Devil's Column outside.
7. La Scala
If after all the days of sightseeing you want to see a concert or show, then La Scala is definitely the place to head. One of the world's most prestigious opera houses, it puts on a packed schedule of wonderful operas and ballets.
Renowned for both its opulent interior and excellent acoustics, the lavish theater was completed back in 1778. Overlooking its hallowed stage are six tiers of private boxes and balconies, all dripping in rich gold and red furnishings.
Over the decades, it has developed a reputation for both its demanding audience and high-quality performances by famous composers and singers. Although hard to come by, tickets guarantee you a world-class show in a sumptuous setting. Its auditorium is also accessible via guided tours from the museum.
6. Navigli Lombardi
One of the most popular parts of the city to drink and dine, Navigli has countless canal-side restaurants, bars and cafes to try out. Situated just south of the center, the trendy neighborhood is particularly magical to explore at night.
Although not often associated with Milan, a system of canals has connected it to the Ticino River since 1177. While many got covered over in the thirties, the few remaining are bordered by colourful old buildings, home to innumerable shops and trattorie.
Quiet during the day, the canal area does have some cool boutiques and artists' studios to peruse. At night though is when Navigli really comes to life and the narrow waterways are delightfully lit up by little lights. We loved taking in the atmosphere and trying out some of its little local bars and restaurants.
5. Sforzesco Castle
Once the largest castle in Europe, Sforzesco's sturdy fortifications cover a large part of the center. Lying alongside the seemingly endless Sempione Park, its ginormous central courtyard and handful of museums are very interesting to visit.
Constructed in 1370, the already vast fort was expanded and strengthened numerous times over the centuries. From here, both the powerful Visconti and then later on the Sforza families ruled over Milan and its surroundings.
At the center of its hulking great walls and guard towers is the splendid, 70 meter-tall Torre del Filarete. Besides snapping photos of this impressive entrance gate, you can explore the courtyard and its adjacent museums. While some focus on either musical history or medieval armour, others are home to decorative art, paintings and Egyptian antiquities.
4. Quadrilatero di Oro
As Milan is also famed for its fashion, you just have to stroll around the Quadrilatero d'Oro at some point. Occupying a considerable area north of Il Duomo are hundreds of high-end shops, fancy cafes and designer fashion boutiques to check out.
Also known as the Quadrilatero Della Moda or 'Fashion Square', the glitzy shopping district is home to tons of chic stores, representing many of the world's major fashion houses. Very expensive and exclusive, their sparkling shop windows are a work of art in and of themselves.
Forming the quadrilatero are its four main streets of Via Montenapoleone, Via della Spiga, Via Manzoni and Corse Venezia. All along here, you can find luxury brands like Armani and Prada, Chanel, Ralph Lauren and Dolce & Gabbana. Even if you're not planning on doing any shopping, the district's decadent feel and dramatic store displays make it well worth wandering around.
3. Galleria Vittorio Emanuele II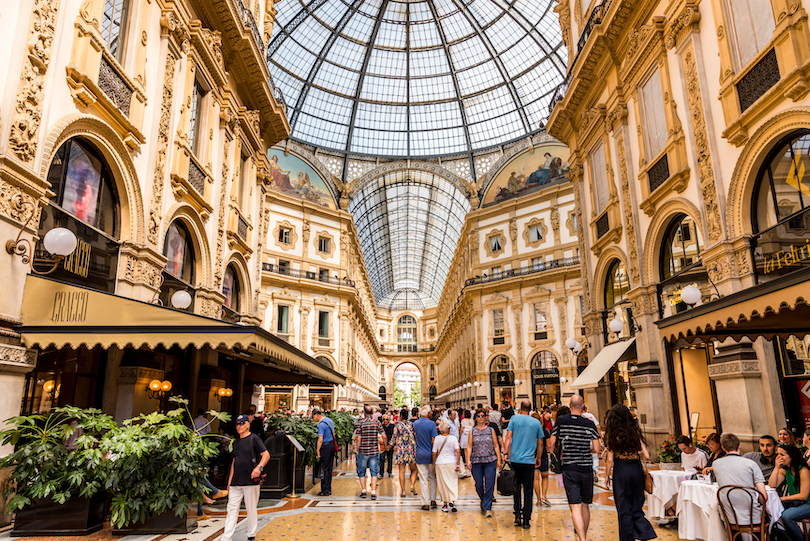 Not far away is one of Milan's standout sights: the grand Galleria Vittorio Emanuele II. An architectural masterpiece, the iconic arcade is also home to lots of stylish clothing brands and swanky dining options.
Definitely one of the most glamorous shopping galleries in the world, the unmissable landmark was unveiled in 1877. Connecting Il Duomo to La Scala, the massive mall is laid out in a cross with a gorgeous iron-and-glass dome rising above its center. While fabulous facades front all its enticing shops and restaurants, colourful mosaics coat its gleaming floors.
Asides from ogling at its extraordinary architecture, you can, of course, shop about or stop for a coffee or meal. Particularly famous names include the exquisite Biffi Caffe, upscale Savini restaurant and stores such as Swarovski and Saint Laurent. We found its ambience and aesthetic so enchanting that we returned later in the evening to see all the gallery's fine features gloriously illuminated.
2. Santa Maria delle Grazie
Also not to be missed is Santa Maria delle Grazie which has long been one of Milan's main tourist attractions. While its exterior may seem rather unremarkable, the simple church's refectory contains one of the world's most revered and recognized artworks: Da Vinci's The Last Supper.
Located just a short walk west of the center, the ruddy red brick building was erected in 1497. Although topped by a terrific six-sided dome designed by Donato Bramante and displaying delightful frescoes and artworks inside, the real reason people visit is on show in the refectory alongside it.
One of the most important art pieces ever produced, Da Vinci's masterpiece opened up new possibilities for painters. The intriguing use of space, perspective and motion in The Last Supper has now seen it replicated countless times over the centuries.
If you want to see the striking scene yourself, make sure to book well in advance. As demand is understandably very high, tickets often sell out. While we thought it was a bit steep, the iconic artwork does represent one of the pinnacles of the Renaissance.
1. Milan Cathedral
One of the most elaborate Gothic cathedrals in Europe is the Milan Cathedral, also known as the Duomo di Milano. Dedicated to Saint Mary Nascent, this cathedral is the largest cathedral in Italy, and the fifth largest in the world. It sits in the center of Milan, with the streets radiating from it or encircling it.
Bishop Antonio da Saluzzo commissioned the Milan Cathedral in 1385. The first Duke of Milan, Gian Galeazzo, supported this project, gave builders access to his marble quarries and invited architects from around Europe to help with the project. Construction of the cathedral began in 1386 and it was consecrated in 1418. However, it was not until 1965 that the finishing touches were applied to the building. This long construction period led to the use of various building styles, resulting in a masterpiece of architecture and art.
The cathedral building itself is a work of art, filled with numerous smaller artworks. These include a vast number of statues as well as half-bust sculptures. There are 3,159 statues adorning the building, more than in any other cathedral. Of these, 2,245 are on the outside of the cathedral along with 96 gargoyles. The cathedral is also home to many stunning stained glass windows.
The interior of the cathedral is large and quite dark. It includes five naves that are divided by fifty-two pillars, one for each week of the year. These help support the ceiling.
There are numerous pieces of art within the cathedral. These include a wonderful sculpture of St Bartholomew. Three impressive altars designed by Pellegrino Pellegrini include some fascinating designs. In addition, in the right transept of the cathedral there is a marble altar with carvings of vegetables, vines and imaginary animals. A nail supposedly used in the crucifixion of Jesus is said to lie in a spot above the apse. A red light bulb marks it. While the interior of the cathedral is a beautiful sight, a trip to the roof is even more breathtaking.
One must use the steps or the elevator to reach the rooftop. The entrance to this is on the north side of the building. These steps lead to a terrace on the roof, where 135 massive spires stretch upward. Numerous statues adorn the these amazing sculptures. The most well-known statue is the Madonnina (Little Madonna). It is a statue of the Virgin Mary covered with 3,900 pieces of gold leaf. It is nearly 4 meters (14 feet) long, and sits on top of the tallest spire. From this vantage point, one can also view the rooftops of homes and buildings in Milan, as well as the mountains in the distance.
There are many other unique aspects of the Milan Cathedral in addition to those mentioned above. Visitors from all walks of life will find something that will pique their interest, whether it is the architecture, the art or just the environment of the cathedral and its surroundings. It is no wonder that the Milan Cathedral is one of the most popular sites in Italy.
Map of Things to Do in Milan, Italy
© OpenStreetMap © MapTiler © Touropia