Lying between the Caribbean Sea and the Pacific Ocean, Guatemala is a mountainous nation that is home to 37 awe-inspiring volcanoes. These make up part of the Central American Volcanic Arc: a long chain of volcanoes that stretches down the Central American Isthmus.
Set amid both tropical lowlands and cooler highlands, the country's volcanic peaks loom over towns and cities, lakes and rainforests. While most of them now lie dormant, its four active volcanoes periodically erupt, coating their surroundings in ash and lava.
In addition to its delightful scenery and epic mountain vistas, Guatemala is also home to Central America's highest peak – the towering Tajumulco. At 4,220 metres high, its lofty volcanic summit counts among the nation's most stunning natural landmarks.
Pacheco / Flickr
Straddling Guatemala's border with Mexico, Volcan Tacana towers above its surroundings, dwarfing everything with its colossal 4,060-metre summit. This makes it the second-highest peak in Central America. Part of the Central America Volcanic Arc, Volcan Tacana lies in a remote part of Guatemala.
This has helped protect and preserve the incredible wildlife and nature that inhabits its slopes. While its upper realms are quite barren due to past eruptions and lava flows, lush rainforests lie around its foot. This contrasting scenery makes Volcan Tacana a delight to hike, with breathtaking views on offer from its soaring summit.
Part of the Sierra Madre mountain range, Almolonga is set in a stunning location with lots of lovely lava domes dotted around its central caldera. Often called Cerro Quemado – or 'Burned Mountain' by locals – the stratovolcano last erupted in 1818, with previous eruptions having collapsed its summit.
Its three-kilometer-wide caldera now lies at the heart of a lava-scarred and tephra coated volcanic field, towered over by a 3,197-metre peak. These destroyed landscapes are captivating to explore, and in certain places, hot springs bubble up from the mountainside. Almolonga can be found just to the south of Quetzaltenango, the second-largest city in the country.
Looming above the lovely lake of the same name, Volcán Atitlán and its symmetrical cone certainly make for a spectacular sight. Towering to 3,535 meters, the mighty peak lies nestled away in the Guatemalan Highlands, not far from Volcan Toliman and Volcan San Pedro.
The region is very volcanic, and the glimmering waters of the lake below actually fill a gigantic caldera. While Volcan Atitlan's serene and secluded setting makes it a very peaceful and pleasant place to visit, it has actually erupted explosively numerous times, the last one being in 1853.
Now, however, the volcano is a popular tourist attraction due to its splendid summit and the beautiful lake, rainforests and volcanoes that lie around it.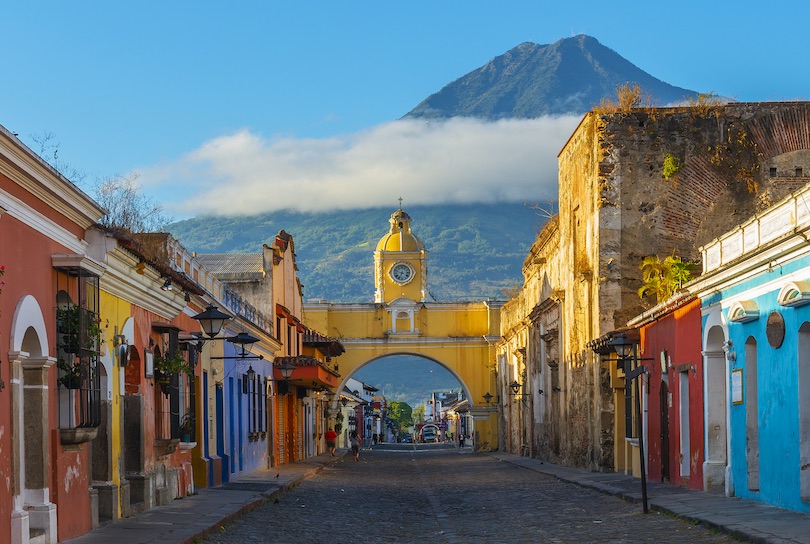 Rising imperiously above the central highland city of Antigua, Volcan de Agua's cloud-shrouded summit dominates the low-lying landscapes around it. Reaching 3,760 meters, its steep, barren slopes tumble down from its lofty cone, eventually giving way to steamy rainforest, coffee plantations, and fertile farms.
While it is a popular place to go hiking due to the phenomenal panoramas offered from its prominent peak, frequent muggings mean it is best to go with a local guide or guard. Meaning Volcano of Water in Spanish, the marvelous mount makes for some fantastic photos, particularly when viewed rising above Antigua's streets and rooftops.
6. Volcan Tajumulco
[SEE MAP]
The tallest mountain in the whole of Central America, Volcán Tajumulco towers to a staggering 4,220 meters. Part of the Sierra Madre mountain range, the massive volcano sports two summits, one of which centers around a crumbling crater.
While its upper reaches are bare and lava-scarred, its sprawling lower slopes are home to lots more nature and wildlife. Despite its fantastic views and scenic setting, the majestic mount isn't all that popular with hikers or mountain climbers as it lies in a sparsely populated part of Guatemala, not far from the border with Mexico.
5. Santa Maria Volcano
[SEE MAP]
Lying in the western highlands, Santa Maria can be found tucked away among the Sierra Madre mountain range, not far from the city of Quetzaltenango. Remarkably, the 3,772-metre-high volcano was responsible for one of the largest eruptions in the last 200 years when it spurted forth pumice and ash in 1902.
Its past volcanic activity also created Santiaguito, a prominent lava dome that juts out from near its summit and regularly emits steam, gas, and lava from its vents. Santa Maria now lies at the centre of a destroyed and devastated landscape that is fascinating to explore, with the volcano's fearsome power apparent wherever you go.
Forming one half of La Horqueta volcano complex, Acatenango is connected to the fiery Volcan de Fuego by a long ridge that rises high above its surroundings. The stunning stratovolcano boasts not one but two pretty and prominent peaks, with Pico Mayor and Yepocape respectively reaching 3,976 meters and 3,880 meters in height.
Due to its sheer size and scale, Acatenango is very popular to hike, and the views out over the nearby mountain peaks are simply majestic. The undoubted highlight is Volcan de Fuego; its frequent eruptions mean that plumes of smoke periodically float above it.
Set on the southern shores of Lake Atitlan, Volcan Toliman certainly paints a pretty picture, particularly when reflected in its shimmering waters. Towering to a lofty 3,158 meters, the stratovolcano is topped by a shallow crater, with a hardened lava dome found on its northern flank.
While its upper realms are bare, its almost symmetrical slopes give way to steamy rainforests and verdant valleys towards the bottom. From the volcano's summit, visitors can enjoy spectacular panoramas out over the lake as well as Volcan Atitlan and Volcan San Pedro; both of which lie nearby. Taking a boat trip around Lake Atitlan is a fantastic way to get an even better glimpse of Volcan Tomlian rising above the waters.
Bethany and Kyle / Flickr
Lying within a gorgeous national park of the same name, the 2,552-metre-high Pacaya is one of the nation's most popular tourist attractions. This is because it is located within easy access of both Antigua and Guatemala City and boasts breathtaking views and stunning scenery.
Hiking up its steep slopes is a delight as you pass through lush vegetation, solidified lava flows, and steaming fumaroles on the way to its smoking summit. While you can no longer approach its crater due to an increase in volcanic activity, Pacaya's prominent peak and the panoramas out over the plains below make the experience all worthwhile.
Fittingly named the 'Volcano of Fire' in Spanish, Volcan de Fuego is famed for its almost constant small scale eruptions, which occur roughly every 15 or 20 minutes. These see ash and gas propelled into the air from the stratovolcano's 3,763-meter-high peak, with enchanting puffs of smoke lingering above its summit before dissipating into the air.
Although larger eruptions are fortunately rare, its 2018 eruption did tragically cause 159 deaths and much destruction. Coupled with its evocative name, the fiery volcano's barren slopes and smoking summit highlight its deadly and destructive potential. The towering volcano does, however, make for an awe-inspiring sight.
It is best viewed from on top of the nearby Acatenango, which Volcan de Fuego is actually joined to by a long ridge. Lying not far from the city of Antigua, Volcan de Fuego is one of the fiercest and most famous volcanoes in the whole of Guatemala.