Lying in the Korea Strait, just to the south of mainland South Korea, Jeju is the largest island in the nation and is a very popular tourist destination amongst both Koreans and foreigners alike. Besides its incredible scenery and natural riches, the island's enduring popularity is in part down to the fact that South Koreans weren't permitted to travel abroad until the late 1980s.
This meant that the island was developed as a holiday destination, and there are loads of hotels, restaurants, shops and tourist attractions in Jeju to check out, as well as a number of fascinating museums and quirky theme parks.
Meaning 'huge village across the sea,' Jeju has its own distinct culture, which is quite different from that of the mainland; this is evident in its two main cities of Jeju City and Seogwipo. The main reason that people visit, however, is to unwind and enjoy its marvelous outdoors. With its gorgeous countryside and jagged coastline dotted with stunning beaches, Jeju Island has a plethora of lovely scenery and fantastic recreational activities for visitors to enjoy.
12. Jeju Stone Park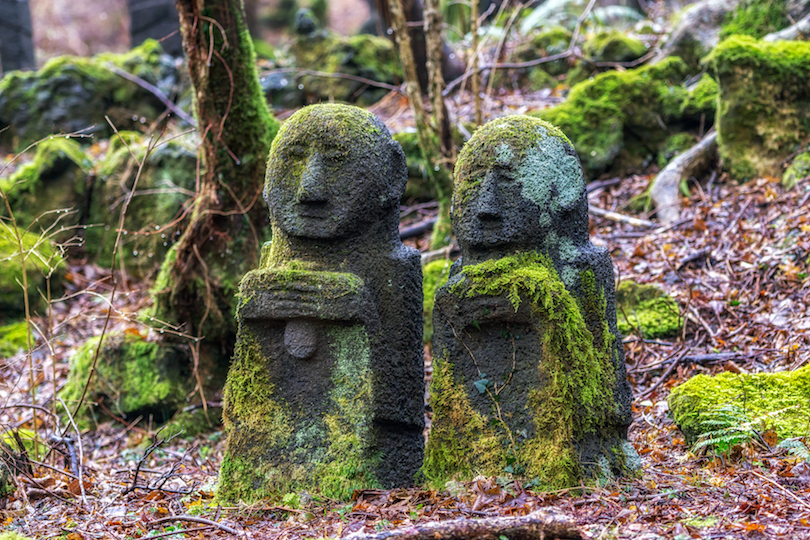 Full of interesting looking rocks and sculptures, Jeju Stone Park is a great place to head to if you want to learn more about the island's rich cultural heritage. Myths and legends have long swirled around Jeju's many natural wonders. As such, many of the rocks in the park represent folklore tales that have been passed down from generation to generation.
For instance, the distinctive Dol Hareubang sculptures – or 'grandfather rocks' as they are commonly called – are said to protect the island and ward off evil spirits. Set among some wonderful countryside, the solemn-looking rocks of Jeju Stone Park certainly do look very impressive, and the stories behind them make them come alive before your eyes.
11. Daepo Haean Jusangjeolli Cliff
Somewhat similar in appearance to the world-famous Giant's Causeway in Northern Island, Daepo Haean Jusangjeolli Cliff is a spectacular rock formation that is well worth checking out if you have the chance. Now a Natural Monument, the jagged cliff was formed when Hallasan Mountain erupted; the cooling lava created the beautiful formations we see today.
Lying along the island's southern coastline, Daepo Haean Jusangjeolli Cliff looks particularly spectacular when a large wave crashes against the rocks. From amid the surf, you can see its peculiar square and hexagon shapes re-emerge before you.
10. Dongmun Market
Established all the way back in 1945, Dongmun Market's many shops and stands sell everything under the sun, with glistening fresh fish displays lying next to stalls laden with fruits, vegetables, meat, and more.
As vendors also sell clothes, stationery, and souvenirs, it is just as popular with tourists as it is with locals, and wandering around is a fun way to spend an afternoon or evening.
There is loads of delicious local food to be had in the market. As dusk falls, people head here to enjoy its fabulous street food, with dumplings and seafood being particularly popular. As it is a traditional market, Dongmun is a great place to visit if you want to get a taste for local life in Jeju City.
9. Jeongbang Waterfall
Lying on the outskirts of Seogwipo, Jeongbang is one of the most famous waterfalls on the island, and with good reason. Shooting off the top of a cliff, Jeongbang's white waters plunge directly into the ocean below. It is remarkably the only waterfall to do so in the whole of Asia.
Towering to a height of 23 meters, the majestic falls certainly make for a dashing sight, as rugged rocks and tree-topped cliffs lie to either side of it. There aren't many other waterfalls like it in the world.
To get up close to Jeongbang, visitors need to clamber over a series of boulders and loose stones. As these can get quite slippery with the waterfall's spray, it is a good idea to wear comfortable shoes.
8. Hallim Park
Offering up the perfect mix of culture and nature, Hallim Park has something for everyone in the family to enjoy; there is even a children's amusement park for young ones to get a thrill out of. Covering a vast area in the northwest of the island, Hallim Park has lots of delightful gardens for you to wander around, and each of them has a different theme or look with various types of fauna and flora on show.
Tucked away amongst its bonsai, water, and palm tree gardens are a small zoo, a charming little restaurant, and a traditional folk village where you can learn more about Jeju's local culture and customs. On top of all of this, its two main attractions are the enthralling caves of Ssangyonggul and Hyeopjaegul, which you can venture inside to take a look at.
7. Hyeopjae Beach
Blessed with dazzlingly bright white sands and sparkling turquoise waters, Hyeopjae Beach in the west of Jeju Island certainly paints a very pretty picture. While its warm sands are perfect for lounging peacefully on, its inviting waters make for some great swimming, and the views out over the nearby Biyangdo Island are simply stunning.
As there are several restaurants and cafes lying along the beach, with amenities such as changing rooms, showers, and parasols all on offer, you can easily spend a whole day or more relaxing at Hyeopjae Beach.
6. Spirited Garden
With its peaceful look and feel, the immaculately presented Spirited Garden is a delight to stroll around. Centuries-old bonsai trees lie alongside rambling hills, picturesque stone bridges, and gently gurgling waterfalls. Designed to set your soul at ease, the garden was founded all the way back in 1968 by Bum-Young Sung.
Since then, numerous important heads of state have strolled around its harmonious landscapes. Representing both the nature and beauty of Jeju, the Spirited Garden is a fascinating blend of art, nature, and philosophy, and is definitely worth visiting if you have the chance.
5. Manjanggul Cave
Formed hundreds of thousands of years ago, Manjanggul Cave is one of the largest and longest lava tube caves in the world and is a very popular draw among tourists. Measuring up to 30 meters high and 23 meters wide, the cave stretches for a staggering nine kilometers.
It is these dimensions that make walking along the one kilometer of the enormous cave that is open to the public so impressive. On the way, you'll pass lots of beautiful stalagmites, stalactites, and rock formations.
Besides simply enjoying being in such a unique place, the main attraction is the gigantic 7.8-meter-high lava column that lies at one end of it – the tallest such structure in the world. With bats flitting about here and there and softly-lit lava creations wherever you look, exploring Manjanggul Cave certainly makes for a memorable experience.
4. Hamdeok Beach
Lying just half an hour to the east of Jeju City, Hamdeok Beach's soft sands and shallow waters make it a popular place to visit with families, especially during the warm summer months.
While much of the beach disappears at high tide, when the waters retreat, a huge sand bar emerges. This is delightful to stroll along, with the glimmering turquoise waters lying all around you.
Bordered by rocky islets and rolling hills with the town of Jocheon lying behind it, the beach is set amid some wonderful scenery, and there are some lovely coastal hikes you can do nearby. In addition to the changing rooms and deckchairs you can find along its golden sands, there are also lots of restaurants, cafes, and hotels for you to choose from.
From Hamdeok Beach, the Korea Strait has lots of fantastic watersports, such as kayaking, snorkeling, and water skiing for visitors to enjoy, while paddling in its waters or swimming in the sea is always delightful.
3. Hallasan National Park
Centered around Hallasan, the highest peak in the country, the national park of the same name will delight nature lovers and outdoor aficionados in equal measure. Towering to a height of 1,950 meters, Hallasan lies right at the heart of Jeju itself, and the dormant volcano's lofty peak can be seen from almost everywhere on the island.
Snaking their way up the side of the mountain are many different trails and paths for you to hike along. Each of them offers astounding views of the surrounding countryside down below.
Believed by locals to be inhabited by spirits and gods, Hallasan actually boasts some very distinct fauna and flora due to it having been separated from the mainland for so many millennia. With flower-filled meadows and lush forests found within its confines, the park has lots of beautiful scenery for you to revel in; Baengnokdam crater lake is just one of its many highlights.
2. Udo Island
Blessed with rugged natural beauty, Udo Island's splendid scenery has long attracted visitors to its shores. Over the years, it has even appeared in a couple of Korean films. Literally named 'Cow Island' due to its apparent resemblance to a cow lying down, Udo does have a very rural look and feel to it, with agriculture being the main source of its inhabitants' income besides tourism.
Surrounded by jagged cliffs that are punctuated by desolate yet breathtaking beaches, Udo Island is just a short ferry ride away from the village of Seongsan-ri in the east of Jeju. As well as exploring all its natural sights, visitors can take a trip to see its charming little lighthouse or check out its museum on local marine and insect life. In total, it only takes around an hour to drive around the whole island.
1. Seongsan Ilchulbong
Also known as Sunrise Peak, the volcanic crater of Seongsan Ilchulbong is Jeju's most famous and iconic attraction. Wherever you go on the island, you'll see photos and tour operators advertising trips to go and see it.
Formed some five thousand years ago by a volcanic eruption, its distinctive bowl-like shape rises dramatically up above the sea and the waves that pound its steep cliffs.
It takes around half an hour to hike the 180 meters to its summit. From its ridge, you can enjoy breathtaking views out over the ocean, Udo Island, and Jeju itself. As its nickname may indicate, a particularly great time of day to visit is at sunrise, when you can witness the sun slowly inch its way above the horizon, lighting up the waters before you.
Not to be missed out on, Seongsan Ilchulbong and its unique landscape are the most impressive sights you can expect to see in Jeju Island.