Like any other country, Peru demands travelers spend a lot of time exploring its wonders. But when your holiday time is limited, as it is for most of us, 2 weeks in Peru is enough to sample the highlights of this South American country.
You can travel from the sophistication of Lima back in time to ancient Incan ruins high in the Andes Mountains. One thing to remember as you visit this fascinating country: As you travel inland, pace yourself as you adapt to the higher altitudes.
2 Weeks in Peru Itinerary
© OpenStreetMap © MapTiler © Touropia
Day 1: Arrive in Lima, sleep in Lima
Day 2: Explore Lima, sleep in Lima
Day 3: To Paracas, sleep in Paracas
Day 4: Explore Ballestas Islands/Paracas National Reserve, in evening to Huacachina, sleep in Huacachina
Day 5: Explore Huacachina, sleep in Huacachina
Day 6: To Nasca, Nasca Lines flight, overnight bus to Arequipa
Day 7: Explore Arequipa, sleep in Arequipa
Day 8: Colca Canyon day trip, sleep in Arequipa
Day 9: To Puno, sleep in Puno
Day 10: Explore Lake Titicaca, sleep in Puno
Day 11: To Cusco, sleep in Cusco
Day 12: Explore Machu Picchu, sleep in Cusco
Day 13: Explore Cusco/Sacred Valley, sleep in Cusco
Day 14: Fly to Lima, sleep in Lima
Day 15: Fly home
Lima (2 nights)
As the capital of Peru, Lima is the perfect place to start your Peru itinerary. Lima is more fashionable today than it was a few decades ago, with emphasis on arts and cuisine. Lima has several great beaches, with plenty of seafood restaurants.
The shrimp dish cerviche is a must-eat. Burn off the calories by strolling or jogging at El Malecon, a promenade in Miraflores, a seaside district with beautiful parks. The Museo Larco should be one of your first stops as it traces the country's history back 10,000 years. Wander through the old town, said to be one of the most beautiful in South America. A must-see here is the Cathedral of Lima.
Paracas (1 night)
When it's time to trade people-watching in Lima for a little bird watching, you can't beat Paracas, a nature reserve south of the capital. A blend of the desert and seashore, Paracas is home to millions of birds all year long as well as thousands of migratory birds that stop here en route to other destinations.
Paracas is a good introduction to pre-Inca culture, with its ancient peoples admired for their weaving skills. Besides the beautiful flamingoes, don't forget to visit the necropolis and other ruins that make up the burial grounds for this indigenous people. Another must-see is the Candelabra geoglyph that is carved into the sand.
Huacachina (2 nights)
Huacachina looks as though it might have been transplanted from the deserts of Africa. It is an astonishing oasis in the middle of the Peruvian sand dunes that are considered one of the driest climates in the world.
This resort community of less than 100 residents is centered around a palm tree-lined lagoon that, at one time, was believed to have healing powers. Located in southwestern Peru, Huacachina is popular with outdoor enthusiasts who to like to go sandboarding or riding dune buggies in the desert.
Nazca (stopover)
Nazca makes an excellent stopover en route from Huacachina to Arequipa. Like the Paracas before them, the Nazca people also were famous for their textiles. More importantly, they were famous for creating geoglyphs or geometric shapes, massive drawings and lines stretching for miles across the desert.
The Nazca Lines are named after the people who created them 2,000 years ago. Despite extensive study, researchers can come to no conclusion as to why this ancient people constructed the lines today, but their theories include they may have been used for astrological or ceremonial purposes. The best way to see the lines is by taking a short flight tour.
There is also an observation tower however along the Pan-American Highway with a view of three of the figures.
Arequipa (3 nights)
Though substantially smaller than Lima, Arequipa is Peru's second largest city. Surrounded by three volcanoes, this earthquake prone city is, however, just as famous when it comes to cuisine. You'll definitely want to try a spicy stuffed red pepper dish called rocoto relleno. The area has been inhabited for close to 10,000 years, but the town itself wasn't founded until 1540 by Spanish conquerors.
It's filled with temples and colonial buildings, usually made from white volcanic ash, giving it the nickname of the "White City." The historic center is a blend of native culture and European influences. A must-visit is the Monasterio de Santa Catalina de Siena, one of the most religious colonial buildings in Peru.
Colca Canyon (day trip from Arequipa)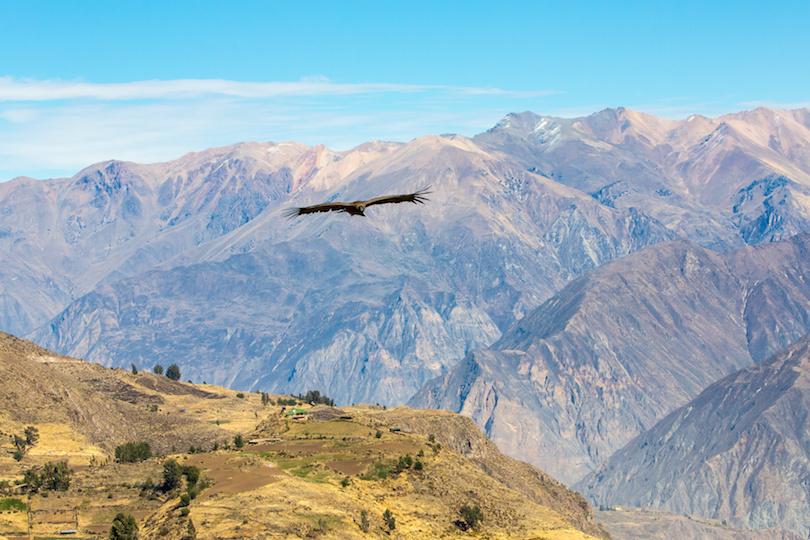 The United States' Grand Canyon doesn't seem so mighty when it's compared to Colca Canyon. That's because Colca Canyon is more than twice as deep as the Arizona wonder. Colca Canyon is Peru's third most-visited attraction; it can be easily reached on a day trip from Arequipa, about a hundred miles away.
It's a good place to see the endangered condor fly in all its majesty; Colca Canyon also is home to the giant hummingbird, among other wildlife. Another sight is seeing residents farm stepped terraces as they did in the pre-Inca days. Mollepunko, with its 6,000-year-old cave art, is an important archaeological must-see.
Puno (2 nights)
The city of Puno sits on the shores of the legendary Lake Titicaca, the world's highest commercially navigable lake in southern Peru near the Bolivian border. According to local legend, the first Inca rose from the water of the lake to found one of the most important indigenous cultures in South America. Isla Taquille is a must-visited; the island is famous for the knitting and textiles residents have been making for thousands of years.
The top attractions of Lake Titicaca however are the Uros Islands. These islands are made from tortora rushes, as are the houses on them and the residents' boats. Puno is known throughout the country as the folklore capital of Peru because of its wealth or artists and craftsmen, and dancers. The region also is known for raising llamas and alpacas.
Cusco (3 nights)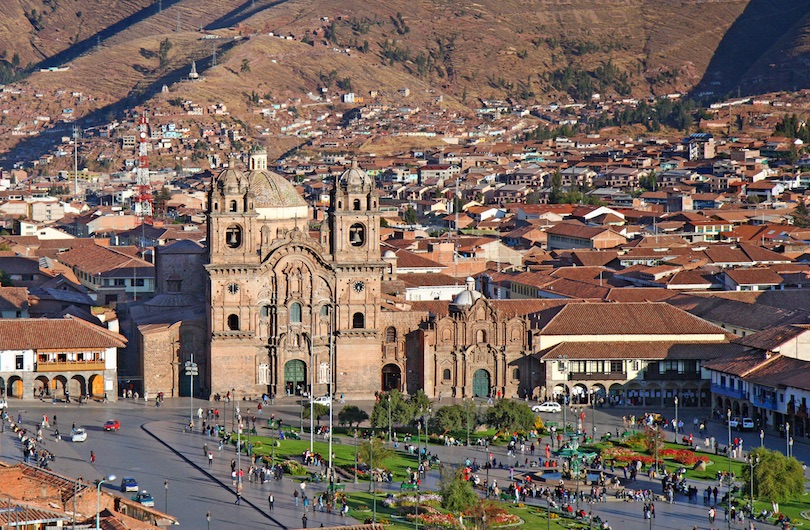 Cusco was the heart and soul of the Inca Empire. Then the Spanish conquerors came, destroying this ancient culture and sending its riches back to Spain. Because of its history, it is one of the most visited cities in Peru.
Its historic center is a good place to start where you can see Spanish buildings sitting atop native ruins. The Plaza de Armas is the main square where you can absorb historic flavor. Take a gander through San Pedro Market, geared to Peruvian shoppers. Cusco has many fine museums, covering arts and history; it even has the Papa Museo, which is devoted to potatoes. Altitude sickness can be a problem, so pace yourself.
Machu Picchu (day trip from Cusco)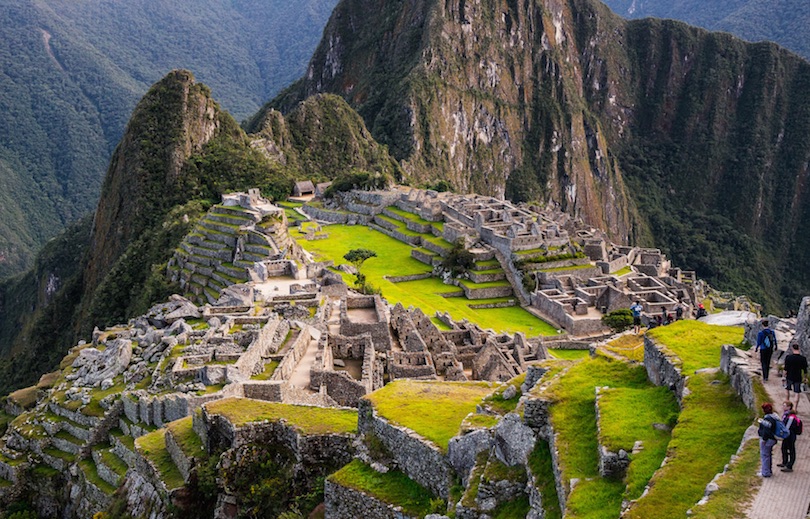 Machu Picchu is one of the great wonders of the ancient architectural world, ranking up there with Stonehenge and Egypt's Great Pyramids. This city high in the Andes Mountains is the No. 1 symbol of the great Inca civilization.
It may have been a royal estate or a religious site; this hasn't been fully determined even today. What it is, though, is nothing short of phenomenal. Be prepared for lots of step claiming during your day trip from Cusco – there are more than 3,000 steps spread out over five miles. Do stick around to see the sun set over this stone village; it's spectacular.
Sacred Valley (day trip from Cusco)
The Sacred Valley is a good place to see more Inca ruins, including statues and sculptures on rooftops that today identify the building's inhabitants as Christians. Though it was filled with Inca ruins, the Sacred Valley was not considered part of the Inca Empire, but rather the personal property off the Emperor.
The regional valley takes in Ollantaytambo, one of the last Inca towns to fall to the Spanish; it is notable for the fine stonework in the buildings. Pisac, has more ruins and a colorful weekly market.
Lima (1 night)
Spend the remaining time of your 2 weeks in Peru by visiting sights you didn't have time to see here when you began your Peruvian journey. Spend time touring the artsy neighborhood of Barranco, a former resort now known for its art galleries.
And don't even think about leaving Lima without visiting the Parque de la Reserva, with its "magic water tour" that encompasses 13 fountains; this is more fountains than any other park in the world. If you missed it the first time or just want to spend more time there, now is a good time to head to the historic center to see the Plaza Mayor, the place where Lima was born.