Situated on the River Main is the large city of Frankfurt, a major hub for finance and trade in Germany. Frankfurt is, without a doubt, a good destination to start your German holiday. It is also a fantastic home base for day trips throughout the region. Whether you're eager to explore medieval castles or scenic rivers, these day trips from Frankfurt are ideal.
Map of day trips from Frankfurt
© OpenStreetMap © MapTiler © Touropia
Drive two hours west of Frankfurt and you'll reach Cochem, a picturesque town that looks like it has been frozen in time. Half timbered houses give a very traditional appearance to Cochem, and the entire town is situated in the Mosel River Valley. Cochem is postcard perfect, but there is more to the town than just its appearance.
The Schloss Reichsburg is a castle perched above the town that is more than 1,000 years old. While views from the castle are spectacular, you can also head to Pinnerkreuz Mountain to view the castle in all its glory, and while you're there you can even do some hiking.
Getting to Cochem
As there is only one direct train to Cochem per day, most visitors will have to change at least once. It generally takes between two and a quarter hours to three hours to get from one to the other. From Frankfurt main station, take a train to Koblenz Hbf, where you then board another train to the picturesque town of Cochem.
As train connections don't always work seamlessly, it may be better to drive. The quickest route on the autobahn takes just under two hours. From the center of Frankfurt, head west on the bundesautobahn 3 before turning off onto bundesautobahn 48. Continue until you come to Exit 4 at Kaisersesch, where you then take the L98 to Cochem. For a change of scenery, on the way back to Frankfurt, take the southern route and stop off at either Mainz or Wiesbaden – both are lovely towns with a lot to offer.
Just two hours away from Frankfurt, you can cross over the border to France and explore the unique city of Strasbourg. Thanks to its location on an international border, the city of Strasbourg is a magnificent blend of culture. Residents speak both French and German, and both country's cuisines are well represented in the city.
If you visit, be sure to check out the Cathédrale Notre-Dame, a striking Gothic church that is undoubtedly the architectural highlight of Strasbourg. Just across the street from the cathedral is a museum with a staggering amount of religious art from the Renaissance and medieval periods.
Getting to Strasbourg
As there are few direct trains to Strasbourg, visitors will often face at least one or two changes. Prices can be quite high at around 50 euros one way, so it is a good idea to book in advance if you can. As there are only three direct trains per day, most visitors will have to get off at Karlsruhe Hbf and take another train from there. While direct trains take just under two hours, you may find it takes up to three and a half hours to get there if the connection isn't smooth.
Driving takes about two hours and 20 minutes on the autobahn from Frankfurt. It is a very simple drive; all you need to do is power it down the bundesautobahn 5 until just before Offenburg, where you'll see signs directing you to Strasbourg. Here, turn off into France, and you'll find Strasbourg just across the border.
If you want to combine a visit to Strasbourg with a trip around the Black Forest, then a guided tour is the way to go. From Frankfurt, tours take you to Baden-Baden in Germany and the glorious Lake Mummelsee, before heading on to Strasbourg, where you can explore its charming center at your leisure.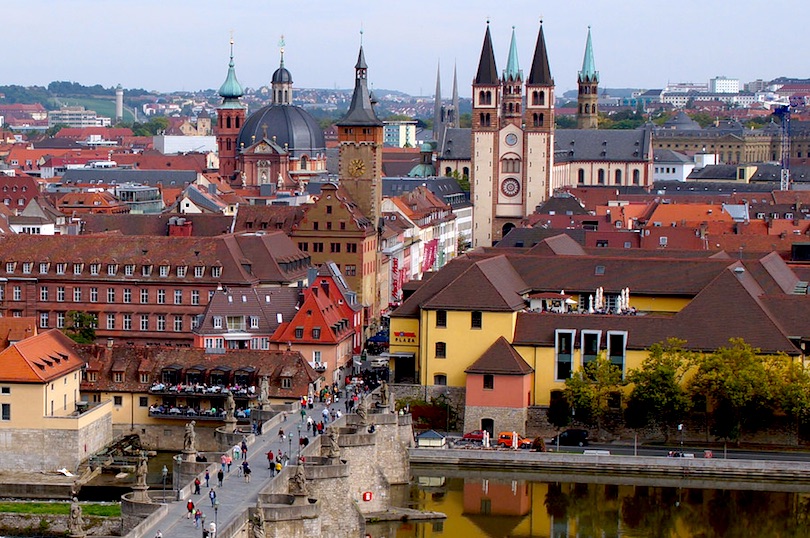 steffenz / Flickr
Hop on an eastbound train from Frankfurt and you'll reach Wurzburg in just under 90 minutes. Wurzburg is a historic destination known for its incredible palace and one of the oldest churches in the country. The Würzburger Residence is a magnificent palace with more than 300 rooms and an extensive collection of Baroque art.
On the premises, you'll also find a beautiful chapel and carefully manicured gardens that are open to the public. Many people are surprised to learn that the castle's basement contains a fully functioning winery. Right across the street from the castle, you can pick up a bottle of local wine as a souvenir of your trip.
Getting to Wurzburg
By train, Wurzburg is only an hour and ten minutes away, and trains depart regularly from Frankfurt main station. The cheapest tickets cost 12 euros. Once you arrive, the spectacular Wurzburg Residence is a 15-minute walk away from Wurzburg train station.
It takes a little longer to drive to Wurzburg, although this does depend on how fast you speed along the autobahn. From the center of Frankfurt, hop on the bundesautobahn 3 heading east, and stay on it until you see signs for Wurzburg around 90 minutes later. By car, you can also visit some of the sights that lie not too far from Wurzburg. Rothenburg ob der Tauber is a beautiful town to visit, just 45 minutes drive away.
Yet another option is to take a tour to Wurzburg. After having driven through the scenic Spessart Mountains, visitors can explore the town at their leisure before going on a guided tour of the impressive Wurzburg Residence.
Northwest of Frankfurt is the major city of Cologne, known to locals as Köln. In the medieval era, Cologne was one of the most important cities for the Holy Roman Empire, and it is still a bustling hub and one of the most popular tourist destinations in Germany.
There is no debating what the biggest attraction in the city is: The Kölner Dom. This enormous cathedral is truly one of a kind. If you're feeling up for a challenge, take all 500 steps to the top of the South Tower, and you'll be treated to spectacular views over the city below.
Getting to Cologne
From Frankfurt to Cologne, the quickest way to travel is by train, with the journey taking between an hour to an hour and a half. Trains depart regularly from the center of Frankfurt. Once you arrive, it is just a short walk across the Rhine to the center of Cologne.
Another great way to see Cologne is to go on a guided tour. This is the most time efficient way to see as much of the city as possible. After a sightseeing bus tour around Cologne, visitors can explore the spectacular cathedral at their leisure, and wander around the scenic Old Town. On the way back, a stop at the lovely town of Limburg is included.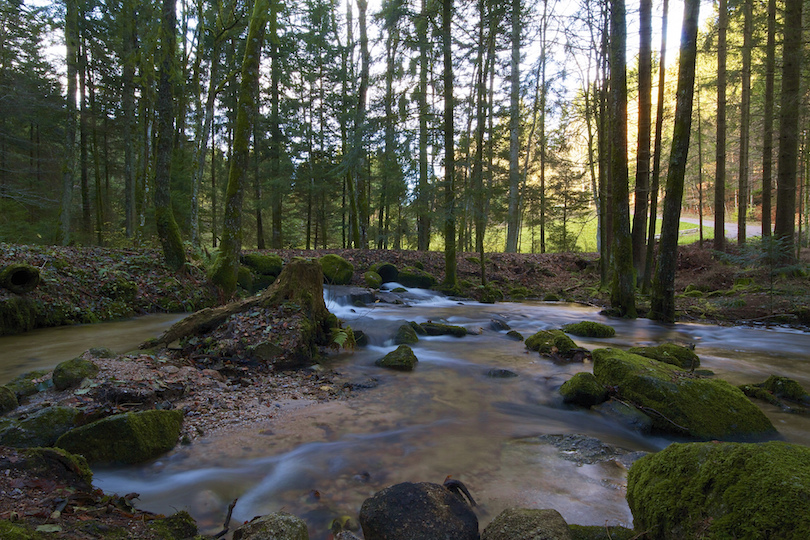 Rafa Win / Flickr
The Schwarzwald, or Black Forest, is a region about 240 km (150 miles) south of Frankfurt. The wooded mountain range is steeped in history, and countless legends and fairy tales have their origins in this forest. If you're interested in outdoor activities, the Black Forest is the ideal place to explore for a day.
Miles of hiking paths are available, and winter sports like skiing are also a great option. For something a little more relaxing, head to the spa resort town of Baden-Baden. This spot is built right over thermal springs, and there are even some remaining Roman baths that you can tour.
Getting to Black Forest
To visit the Black Forest, visitors have two options available to them: go by car or take a guided tour – each of them has its merits. Driving offers you the luxury of exploring the scenic Black Forest at your leisure, and you can stop off wherever you want to. It is a huge region though, so it is probably best to choose a couple of places that you want to head to and take it from there.
Baden is one of the most popular places to visit in the Black Forest. From Frankfurt, it takes just under two hours to get there. You can actually speed your way along bundesautobahn 5 all the way from one city to the other. From here, you can take the scenic Badische Weinstrasse through the foothills of the Black Forest to Freiburg, another lovely city in the area. Along the way, you'll pass lots of lovely vineyards, castles, and quaint towns.
To avoid the hassle of planning and driving yourself, you can always take a guided tour to the Black Forest. As well as visiting Baden-Baden and the glittering lake of Mummelsee, tours also include a trip to the historic city of Strasbourg, just across the border in France. As such, they offer the perfect combination of history, nature, and culture – all in one day.
The city of Mainz is just 45 minutes outside of Frankfurt, making it an easily accessible spot for a day trip from Frankfurt. Romans settled in Mainz nearly 2,000 years old, giving the city plenty of history and heritage.
There are several excellent museums in the city, with the most famous being the Gutenberg Museum. Bibliophiles will love seeing some of the very first Gutenberg bibles as well as a reproduction of his first printing press. In the old town, or Altstadt, you can also tour a number of remarkably well preserved medieval homes known in German as Fachwerkhäuser.
Getting to Mainz
From Frankfurt, Mainz makes for a straightforward and rewarding day trip. As direct trains run between the two cities, you'll find yourself there in no time at all. Simply hop on a train at Frankfurt main station and get off at Mainz, around 30 to 40 minutes later. Trains run very frequently, and the cheapest tickets cost 11 euros one way. Once you arrive, the beautiful Altstadt is just a short walk away.
By car, Mainz is around a 45-minute drive away, depending on traffic. The quickest way is to head southwest on the bundesstrasse 43, which turns into bundesautobahn 3 for a brief stretch. Turn off onto the 67 after around ten minutes. A short while later, you'll see a turning for bundesstrasse 60, which will take you all the way to Mainz. With a car at your disposal, you could always combine your visit to Mainz with a stop at the beautiful thermal baths of Wiesbaden, which lie just to the north of the city.
2. Rhine Valley Cruise
[SEE MAP]
One of the best ways to experience the beauty of the Rhine River Valley, and to see as many destinations as possible in a single day, is with a Rhine Valley cruise. There are countless operators that offer tours from Frankfurt for the day, or you can drive to places like Mainz or Koblenz to see a different area of the river.
This is an amazing opportunity to see gorgeous castles and medieval cities from a whole new perspective. Keep in mind that it is impossible to see the entire Rhine River Valley in one day, so choose a stretch of the river that most appeals to you.
Taking a Cruise
During an organized Rhine Valley Tour you'll get to see a number of impressive castles, glorious landscapes, and sample some of the wines from the area. Among the many highlights is the cruise itself, which takes you past picturesque vineyards and charming towns that hug the banks of the Rhine.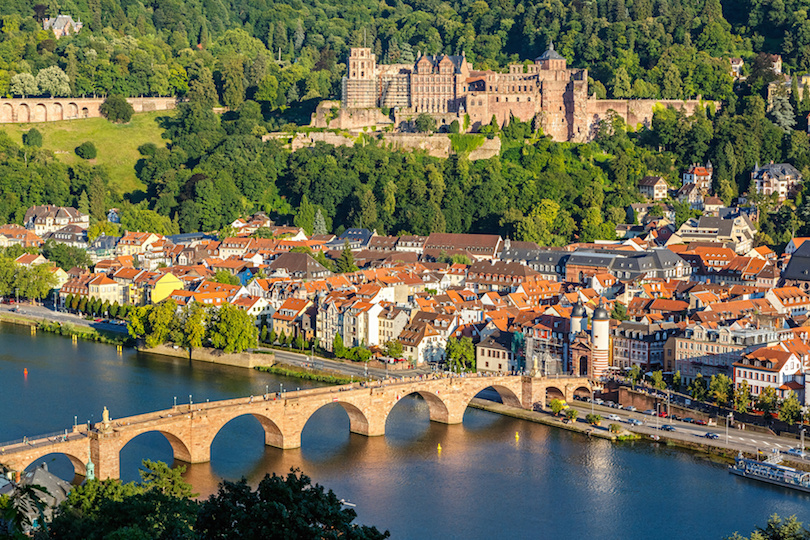 Drive one hour south of Frankfurt to visit Heidelberg, a stunning university town located on the Neckar River. Besides a famous castle, Heidelberg is also home to the oldest university in the country, which dates back to the 14th century. You can still visit the Universitätsplatz, which was the original site of the university and now serves as a student center and dining hall.
You should also make time for the Heiliggeistkirche, a church that once served as the home to the collection from Germany's oldest library, or the Bibliotheka Palatina. Take a train to the top of the Königstuhl-Mountain for wonderful views of Heidelberg. On clear days, you can even see all the way to the Black Forest.
Getting to Heidelberg
To get to Heidelberg from Frankfurt, visitors have a number of options available to them. Public transport, for instance, is a very quick and efficient way to get from one city to another; a direct train takes less than an hour. Trains run regularly, and tickets cost as little as 5 euros each way. Just board the train at Frankfurt main station and alight at Heidelberg Hbf. From there, it's a short walk to all the main sights.
It is just as easy to get to Heidelberg by car. The drive down takes around the same time as the train journey. It does, however, mean that you can stop off to see some of the surrounding sights, such as the crumbling ruins of the Dilsberg Fortress or the picturesque town of Bad Wimpfen – which is about a 30 minute drive away. From the center of Frankfurt, head southwest along the banks of the River Main until you come to bundesautobahn 5, which you must follow south all the way to Heidelberg.
Yet another option is to take a guided tour. This is one of the best ways to see Heidelberg if you want to come away with a deeper understanding of the history of the castle and the university town. Wandering around the charming town with a professional guide makes for an illuminating day out. As well as the spectacular castle, you'll also get to see the wonderful Karl Theodor Bridge and the university itself.