Cairo is a most interesting city, as a nation's capital should be. It has amazing noisy souks (markets) and a medieval Islamic city. After you've seen a few sights here, it's time to move on to the real reason you're visiting Egypt: the famed pyramids along the Nile. Hie thee to Cleopatra country! Should you get tired of the pyramids and other antiquities, take a relaxing break at a nature preserve, where scenery and wildlife reign. A day trip from Cairo may be just what the pharaoh ordered.
IDS.photos / Flickr
Cairo may be the modern capital of Egypt, but Memphis, just 25 km (15 miles) away, was the ancient capital. Located at the mouth of the Nile Delta, Memphis was one of the most important cities in ancient Egypt. It was home to Egyptian rulers who built vast temple complexes. Unfortunately, little remains of their achievements today, having been ravaged by the depredations of time, the flood plain environment and the usage of its stone for the buildings of medieval Cairo A must-see site is the Open Air Museums however, which contains a huge limestone statue of Ramses II as well as a massive alabaster Sphinx and other monuments.
Egypt isn't all just sand dunes, as you'll find out when you visit Wadi El Rayan, just over two hours by car from Cairo. It's a nature reserve where you'll see mountains, rock formations, oasis and beautiful waterfalls. You may also come across Egyptian wildlife such as gazelles, foxes and a whole bunch of birds, including migratory birds, eagles and falcons. The area also is known as Whale Valley because numerous whale fossils, among the first anywhere, were found here. If you drive yourself, a four-wheel drive vehicle is recommended because some roads are pretty rough. It gets hot here, so bring sunscreen and lots of water.
You can see some interesting things at cemeteries, and Saqqara is no exception. It's the ancient burial ground for Memphis. It's got a bunch of pyramids (16 kings are buried, one in each), including Djoser's Step pyramid because it's built in levels or steps. This pyramid is the oldest standing stone building in the world. Other important officials have funeral monuments here. Archaeologists and researchers are still excavating here. In 2011, they uncovered eight million animal mummies in a catacomb. The mummies were mostly dogs; researchers think their function was to pass along the prayers of their owners to the gods.
Egypt's second largest city, Alexandria, served as the country's capital for nearly 1,000 years in ancient times. Situated on the Mediterranean Sea, remnants of Greek and Roman civilizations can be found in landmarks and historic sites. Key is Pompey's Pillar, a Roman column 30 meters (99 feet) tall. Part of what is believed to be the famous ancient Library of Alexandria was found beneath the acropolis the pillar stands on. Nearby are multi-level catacombs that contained a large Roman banquet room where memorial meals were eaten. Also important is the Temple of Taposiris Magna where it is believed Egyptians worshipped sacred animals. Not much of it remains, but animal lovers may enjoy a visit.
archer10 (Dennis) / Flickr
Ancient Egyptians honed their pyramid building skills at Dahshur. They then applied these skills to building the Great Pyramid of Giza. Dahshur, located on the west Nile south of Cairo, has two notable pyramids: the Bent and the Red. The pair is among the oldest and best preserved pyramids in the country. The Bent pyramid was the first attempt to build a smooth-sided pyramid; it wasn't successful. The second attempt – this one successful – resulted in the Red pyramid, so named because it gives off a red color after a rainstorm. Other pyramids, including one for tombs of royal women, can be found here.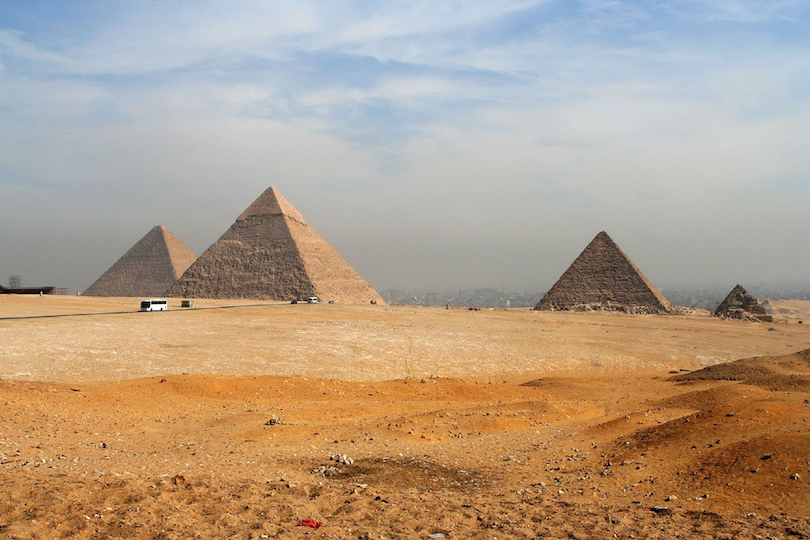 Tommy Wong / Flickr
When Egyptian kings died, they may have gone to heaven, but first, they made a pit stop along the way in Giza. Here they built monuments, such as temples to themselves and, with engineering skills considered primitive by today's standards, built gigantic pyramids. Easily doable on a day trip from Cairo, these pyramids are undoubtedly the No. 1 reason we visit Egypt. There is something awe inspiring about the Great Sphinx and the Great Pyramid of Giza, which lost out to Greenwich, England, as the Prime Meridian, standing near each other. There are more pyramids worth seeing and necropolises or cemeteries with their sculptures of the dead.