Although often overlooked by tourists, Wichita is a very vibrant city that has a lot going for it. Once a quiet cowtown, it has since grown into an important center of trade, transport, culture, and media.
Now the largest city in Kansas, it lies at the spot where the Arkansas and Little Arkansas rivers meet in the south-center of the state. Dotting both their banks and downtown are a myriad of outstanding museums, theaters, and music venues for visitors to try out. Plenty of impressive cultural landmarks and pretty riverside parks can also be found around town.
Thanks to its intriguing blend of centuries-old historic sites, idyllic nature spots, and western culture, there is a wide variety of things to do in Wichita. Add in its diverse neighborhoods and thriving dining scene and it's easy to see why this former frontier town is a great place to visit and vacation.
16. Frank Lloyd Wright's Allen House
GPA Photo Archive / Flickr
Just east of Uptown you can find one of the finest examples of Frank Lloyd Wright's famous Prairie Style architecture. At the Allen House, guests can take tours of its interior and enjoy all the intricate details of the renowned architect's work.
Built in 1917 for Kansas governor Henry Justin Allen, it showcases all the ideals and aesthetics that characterize the architectural style. As such, horizontal lines, open floor plans, and natural materials are all featured with the building blending perfectly with the surrounding landscapes.
Inside is just as attractive, as fine furniture, furnishings, and artworks decorate all its well-maintained rooms. With a knowledgeable guide on-hand, you'll learn about the history, design and decoration of the house and about the great architect himself.
15. Farm & Art Market
Ty Nigh / Flickr
A colorful and chaotic affair, the vibrant Farm & Art Market takes place every Saturday from April through December. Located right in the heart of Old Town, its stands and stalls coat the square with almost everything under the sun being on sale.
Since 1991, locals and tourists have flocked to the market to buy fresh fruit and vegetables, artisanal products, and handcrafted artworks. Plenty of baked goods and coffee stands are also featured, as are pop-up galleries selling paintings, jewellery, and clothing.
Ambling around the market is lots of fun thanks to its lively yet laid back ambience and wide variety of local products. After having shopped til you drop, you can always grab a bite to eat or drink from one of its food trucks.
14. Century II Performing Arts Center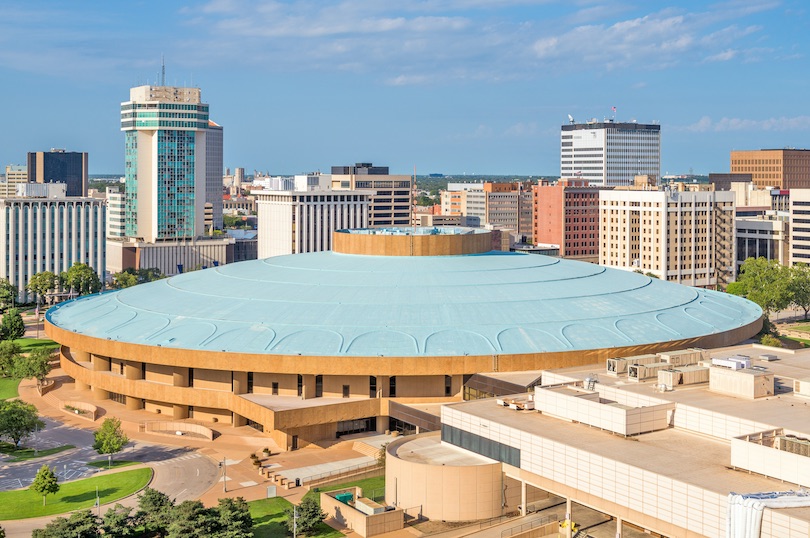 Set just a short stroll away is the state-of-the-art Century II Performing Arts Center. In its cavernous concert hall, you can enjoy absolutely amazing orchestras and operas, concerts, and comedy nights.
As well as an enormous auditorium, the sprawling complex encompasses a smaller theater, exhibit spaces, and meeting rooms. Consequently, its calendar is always jam-packed with talks, conventions, and unforgettable performing arts taking place all the time. Brilliant ballets, plays, and dance shows are also held at the center with local groups and international stars both featuring.
When in town, it is therefore well worth checking out its extensive list of events and entertainment opportunities. As its venues boast excellent acoustics, sightlines, and host top-class performers, it is a magnificent place to watch a show.
13. Arkansas River Trail
Running its way through the city center and past Century II is the popular and picturesque Arkansas River Trail. A treat to walk, jog, run, or cycle along, it passes lots of pristine scenery and nature and offers lovely views over the river.
Stretching almost eleven miles in length, the mostly flat, paved path hugs the southwest bank of the tranquil river. While some parts on the periphery of the city are serene and secluded, others take you through bustling communities and built-up areas.
In addition to gorgeous gardens and green spaces, it meanders its way past famous landmarks such as the The Keeper of the Plains statue. Stadiums, shops, and even the city zoo border the route as do a handful of museums and monuments.
12. RiverFest
ercwttmn / Flickr
The largest and liveliest music festival in Wichita, the fun and family-friendly RiverFest takes place each June. While most come to hear its fantastic bands and singers, there are umpteen activities and events for all ages to enjoy.
What started out in the seventies as a smallish festival has since morphed into a massive week-long celebration. Nowadays, countless community events and cultural activities are held along the river, while entertaining performers take to the stage.
A colorful, costumed parade with floats and fireworks is just one of the highlights, with food trucks and merch stands also being dotted about. After having seen its classic car show, revelers can enjoy exciting DJ sets and live bands until late into the night.
11. Great Plains Nature Center
Christine Warner / Flickr
A very interesting and educational place to visit in Wichita, the Great Plains Nature Center lies almost on the northern outskirts of town. Home to both animals and exhibits, it teaches visitors everything there is to know about the fauna and flora of the Great Plains.
Covering a huge area, it protects prairies, wetlands and woodlands which are home to hundreds of species native to Kansas. While wandering about its untouched landscapes, you can often spot birds and animals amidst the undergrowth. Informative plaques help you appreciate and understand more about the nature and wildlife on display.
Its indoor facilities contain yet more information and exhibits on the ecosystems and animals of the Great Plains. Classes, talks, and workshops serve to educate the local community on the important habitat which is so synonymous with the state.
10. Tanganyika Wildlife Park
If you want to see even more awe-inspiring animals, then the Tanganyika Wildlife Park is the perfect place to go. Roaming about its spacious enclosures are giraffes and rhinos, pygmy hippos and lions, with hundreds of other species also on show.
A firm favorite with families, the splendid zoo opened in 2008 on the outskirts of Goddard. As the animals are very active and appear happy, exploring its innumerable exhibits really is a memorable experience. Booking one of its animal encounters also enables you to feed sloths, stroke servals, and take pictures with penguins.
Besides seeing camels, lemurs and clouded leopards up close, there are also playgrounds and splash pads to enjoy. A magical time of year to visit is around Christmas when the whole park is decked in flickering fairy lights.
9. Wichita Art Museum
WichitaArtMuseum / Wikipedia
Packed with paintings, sculptures, and ceramics, the Wichita Art Museum is not to be missed for its incredible collection. Spanning several centuries, its wonderful artworks occupy a massive modern building alongside the Arkansas River.
Since being established in 1915, it has grown considerably with over 7,000 art pieces now displayed within its galleries. While ambling about, you'll see intriguing installations by local artists besides masterpieces by Dale Chihuly, Edward Hopper, and Robert Henri among others.
Gorgeous glassworks and detailed drawings also feature alongside sections on the history, nature, and landscapes of the city and state. After having enjoyed its art, guests can grab a coffee in its cafe, buy gifts in its store or explore its pretty and peaceful riverside campus.
8. Kansas Aviation Museum
Situated on the southeastern edge of the city is the exceptional Kansas Aviation Museum. Formerly a municipal airport, it houses artifacts, engines, and aircraft with exhibits documenting the history and evolution of the industry in Kansas.
Once one of the busiest airports in the States due to its central setting, it operated between 1935 and 1954. Now visitors can enjoy the arresting Art Deco architecture of its old terminal before venturing inside its halls and control tower. These contain dozens of civilian and military aircraft of all shapes and sizes.
While its gleaming jets and big Boeings understandably attract the most attention, engaging exhibits also cover Wichita's role in the Second World War. Others look at important aviation companies and their influential role in the industry.
7. Old Town
Both the city's historic center and entertainment district, the Old Town is the best place to shop, dine, and go out in Wichita. Across its four bustling blocks are hundreds of attractions and eateries with many housed in historic buildings and old warehouses.
Humming with life, this happening area is lots of fun to explore as there is just so much going on all the time. Countless cafes and restaurants line its streets, as do brilliant boutiques and souvenir shops. Old Town is also known for its nightlife scene thanks to its booming bars and live music venues.
To top it all off, it has a couple of theaters and museums to stop by like the Regal Warren Old Town and Museum of World Treasures.
6. Sedgwick County Zoo
Home to gorillas and grizzlies, tigers and tapirs, Sedgwick County Zoo is certainly a fun day out for all the family. Located just fifteen minutes' drive northwest of downtown, it has a whopping number of animal attractions and encounters to enjoy.
Founded in 1971, the award-winning wildlife park houses around 3,000 animals, birds and reptiles of over 400 species. Its humongous site is divided into sections such as Pride of the Plains, Cessna Penguin Cove, and Kookaburra Junction. Each expansive enclosure is designed to look exactly like the animals' native habitat in either Africa and Asia, or Australia and the Americas.
Besides taking a trip to each continent, you can organize unforgettable animal encounters and learn more about the zoo's remarkable residents. Cafes, shops, and playgrounds are also dotted about.
5. Exploration Place
Even closer to the center is the outstanding Exploration Place which lies next to the Arkansas River, not far from Century II. At the hands-on science center, young and old alike can explore, create, and experiment to their heart's content.
Within its amazing modern building are interactive exhibits on everything from flight and design to anatomy and the American Midwest. As well as science labs and flight simulators, there is a three-story medieval castle for kids to clamber about. This contains over sixty STEM exhibits with other engaging activities also being on offer.
In addition to all this, Exploration Place has a planetarium, live science shows, and educational films to enjoy. A huge outdoor play area and wetlands habitat can also be found beside the river.
4. Old Cowtown Museum
john / Flickr
Right next to both the Wichita Art Museum and Botanica you can find the interesting and engaging Old Cowtown Museum. At the enormous open-air museum, guests step back in time and uncover what life was like in the Wild West.
Its replica of an 1870s village impressively encompasses over fifty historic and faithfully recreated old buildings. While wandering about, visitors can enter and explore general stores and blacksmiths, as well as a church and schoolhouse. Authentic artifacts, historic photos, and enthusiastic costumed interpreters help highlight what a frontier settlement used to be like.
Exciting cowboy gunfights and live demonstrations of various skills also keep people entertained as farmyard animals roam about its scenic streets. A gift shop, snack stand, and old carriages and farm equipment are also scattered about.
3. Botanica, The Wichita Gardens
Randy Watson / Flickr
A very peaceful and picturesque place, the beautiful Botanica now covers a ginormous green part of Midtown. Regularly referred to as The Wichita Gardens, it has over thirty sections full of colorful plants, flowers, trees, and shrubs for you to explore.
Since being established in 1987, the gorgeous grounds and gardens have grown and grown as word spreads about their beauty. They now boast around 4,000 species both native and new to the region, with azaleas and irises lying alongside roses and tulips. Amidst its fragrant flower beds, you can spot superb sculptures and sparkling streams, fountains, and waterfalls.
Asides from snapping photos of its fantastic flowers and water features, you can also attend classes and workshops in the idyllic garden.
2. Museum of World Treasures
Museumworldtreasures / Wikipedia
Back in the city center is another of Wichita's main tourist attractions: the fun and fascinating Museum of World Treasures. Long one of Old Town's most popular attractions, it houses a colossal collection of ancient artifacts from all around the world.
Exploring its giant galleries really is a delight as stunning dinosaur skeletons tower above Egyptian mummies and Roman artifacts. While some rooms contain coins, documents, and exhibits on World Civilizations, others look at US military history and their presidents. Original manuscripts by Mark Twain and Mozart also feature alongside displays on Native Americans and cowboys.
With so many captivating artworks, objects, and even weapons on show, you can easily spend hours touring around the museum. There is also a cool play zone for kids and a gift shop should you need a break at any point.
1. The Keeper of the Plains
Set at the spot where the Arkansas and Little Arkansas rivers meet is the city's standout symbol and sight. Known as The Keeper of the Plains, the stupendous steel sculpture makes for some fabulous photos particularly when lit up at night.
Erected in 1974, it towers 44 feet high and represents a Native American Indian chief. At its foot are informative displays on local tribes that inhabited the area and steps that lead down to the riverside.
Reachable by two footbridges, the sculpture is perched atop a prominent outcrop and ringed by lots of rugged rocks. As it lies not far from countless other tourist attractions, many people stop by while on their way to Botanica, Exploration Place, or the Old Cowtown Museum.
Map of Things to do in Wichita, KS