Nestled in the northwest corner of Vermont is the vibrant city of Burlington which lies on the scenic shores of Lake Champlain. Despite its small size, there are several interesting and entertaining activities and things to do in Burlington; from breweries and Ben & Jerry's to museums and markets.
Thanks to its sizable student population, the city has a lively feel to it and a thriving arts and culture scene. Interesting architecture and historic tourist attractions can also be found while the state's endless farms and fields, and the lake's islands, are never far away.
The largest city in Vermont, Burlington is well worth checking out if you have the chance. Fall is a particularly popular time of year to visit for the colorful foliage.
11. University of Vermont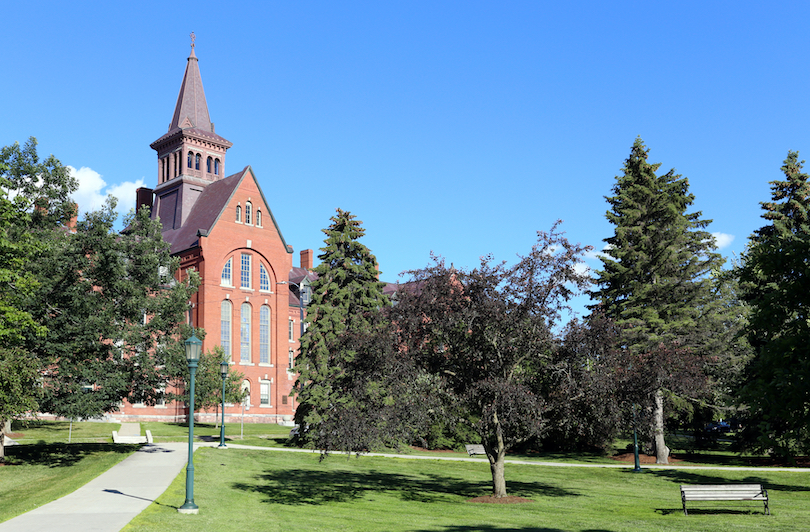 Sprawled over a huge part of the city center is the hilltop campus of the University of Vermont. One of the oldest and most prestigious institutes of higher education in the States. Founded in 1791, it has attractive architecture to check out, as well as a museum and highly thought of theater.
While wandering around its grounds you'll come across beautiful old buildings, such as the Old Mill, Williams Hall, and the Billings Memorial Library; all built over a hundred years' ago.
Visitors can also stop by the fantastic Fleming Museum of Art or watch a production at the Royall Tyler Theater.
10. Shelburne Farms
Situated to the southwest of the city, the enormous agricultural estate of Shelburne Farms is set in a scenic spot on the shores of Lake Champlain. Once the property of the Webbs – wealthy relatives and descendants of the Vanderbilts – the working farm now educates people on how the land can be used environmentally, economically, and in a culturally sustainable manner.
Popular with both locals and tourists alike, the large estate has farmland and woodlands for you to explore as well as a shoreline to stroll along. An important example of a Gilded Age farm it has many historic buildings dotted about and was designated a National Historic Landmark District in 2001.
With inns, a restaurant and a children's farmyard also on offer, Shelburne Farms makes for a family-friendly day out.
9. Magic Hat Brewery
Doug Kerr / Flickr
Situated between Shelburne Farms and the city center is the magnificent Magic Hat Brewery. One of the most bizarre places to grab a beer in Burlington. Widely credited with having helped turn Americans onto craft beer, the microbrewery was founded in 1994.
Located in an abandoned factory on an industrial park, it has an enticing 'Artifactory' tour around its eclectic and artistic interior which showcases how its beers are produced.
Besides beer brewing, you can also shop for souvenirs and sample some of its lagers and experimental IPAs, all of which have whacky names. A popular choice is its aromatic, not quite pale flagship brew, #9.
8. ECHO, Leahy Center for Lake Champlain
On Burlington's waterfront is the ECHO Leahy Center which is home to exhibits and aquaria on the ecosystems of Lake Champlain. An innovative science and nature museum, it was established in 2003 to instill a sense of wonder in nature and scientific discovery.
Through its amazing exhibitions, you'll learn about the history of the lake and all its amphibians and invertebrates, reptiles, and fish. Visitors can also try out its hands-on discovery centre, enjoy panoramic views over the lake and watch educational nature films at its on-site cinema.
7. Shelburne Museum
Set next to Shelburne Farms is this museum of the same name which impressively boasts the largest collection of Americana in the States. Founded in 1947 by Electra Havemeyer Webb, its captivating collection consists of over 150,000 items with prints and paintings, folk art and furniture, and even architecture on display.
The sprawling site also has thirty-nine beautiful old historic buildings, including a sawmill, school, and railway station. It also has the Ticonderoga steamship to check out which used to plough the waves of Lake Champlain.
With so much of New England's fascinating history and heritage showcased, the Shelburne Museum is certainly well worth visiting if you have the chance.
6. Burlington Farmers Market
CSM / Flickr
Every Saturday morning in summer, thousands of people descend upon the Burlington Farmers Market to buy and sell their wares. From May to October, the market is set up in the central City Hall Park. For the rest of the year, its rows of stalls occupy the University of Vermont's Davis Center.
Founded in 1980, the market has been very popular with both locals and tourists alike and almost everything for sale is produced by Vermont farmers. While wandering around you'll see colorful fruit and vegetables sold alongside baked goods, cheeses, and crafts.
The market is a great place to sample some local produce, buy some souvenirs or simply stop off for a coffee and enjoy the atmosphere.
5. Lake Champlain Ferries
Making up much of the Vermont – New York state border is Lake Champlain which also crosses over into a small part of Canada in the north. Dotted about its reflective waters are idyllic islands and charming lakeside communities with ferries running regularly from Burlington's King Street Dock.
Impressively enough, Lake Champlain Ferries has operated since 1826 with its cruises popular with both locals and tourists. Some people set off across the lake to Port Kent in New York, while others head to Grand Isle which has superb scenery and outdoor activities to enjoy.
The company also runs some great sightseeing cruises where you can learn about the history of the lake and surrounding area as you take in the beautiful views from its bows.
4. Waterfront
Just a short stroll from Burlington's bustling downtown area is its waterfront which looks out over the scenic shores of Lake Champlain. While both the Echo Leahy Center and Perkins Pier can be found here, most of the lakeside is taken up by a park and promenade.
Besides ambling along the waterfront and enjoying fabulous views over the lake, visitors can walk, cycle or picnic among the park's gardens and colorful flower beds. While its scenery can be enjoyed at any time, during the summer Waterfront Park also hosts concerts and cultural events.
With cafes and ice cream stands dotted about and boat trips departing nearby, Burlington's waterfront is one of the best places to spend time in the city.
3. Church Street Marketplace
The heart and soul of life in the city, Church Street Marketplace is chock full of fun things to see and do. Set over four blocks of Burlington's downtown are around a hundred restaurants and shops with an outdoor pedestrian area.
Established in 1980, its popularity has grown year-on-year with countless open-air cafes and chain stores found next to local art galleries, boutiques and, of course, Ben & Jerry's. Besides all its booming businesses, the area also has interesting architecture and historic sights for you to check out, while its street performers add to its ambience.
2. Ben & Jerry's
Shannon McGee / Flickr
When in town an absolute must is stopping off for a scoop of Ben & Jerry's, the iconic ice cream company is synonymous with both the state and the city. Founded in Burlington in 1978, the world-conquering brand has a colorful scoop shop in Church Street Marketplace, as well as a fun factory you can take tours around at Waterbury.
At its corner shop, you can lick, sip and slurp on some of its signature cups, cones and sundaes with plenty of flavors to try out. Besides cool classics, such as Chocolate Chip Cookie Dough and Phish Food, there are also warm waffle cones and hot fudge sundaes to enjoy.
Although it lies a half-hour drive to the southeast of the city, the Ben & Jerry's factory is worth visiting for its film on the origins of the ice cream empire and the ice cream you can sample in the scoop shop.
1. Island Line Trail
Fred Murphy / Flickr
One of the most picturesque places to visit in Burlington, the idyllic Island Line Trail takes you past breathtaking scenery and viewpoints. It stretches 23 kilometers and runs from Oakledge Park to South Hero on Grand Isle, passing through Burlington's Waterfront Park.
The flat, paved path follows the route of the old Island Line railroad which used to run along the shores of Lake Champlain. Nowadays, however, the trail is used by walkers, joggers and cyclists who can gaze out over the lake and see beaches, lighthouses, sailboats, and sunsets as they go.
While all the scenery certainly is spellbinding, the undoubted highlight is crossing the Colchester Causeway which connects South Hero to the mainland. Reaching almost five kilometers in length, the narrow trail is a pleasure to walk along as the lake shimmers around you on all sides.
Map of Things to Do in Burlington