Despite being dwarfed by neighboring Argentina and Brazil, visitors to Uruguay will be surprised and impressed at all of the incredible things that there are to see and do in South America's second smallest state. One of the safest countries on the continent, Uruguay's sophisticated cities are fascinating to explore as delightful colonial-era centers, pulsating tango clubs and a wide range of historic and cultural landmarks entice you onwards.
The beautiful beaches that border the Atlantic Ocean offer up sun, sea, sand and surf as well as fun and friendly beach resorts while in the interior stunning nature reserves lie side by side next to expansive cattle ranches. Very easy to travel around, Uruguay is a laidback country that has a lot to offer and so don't be surprised to find yourself yearning to return as soon as you've left its shores.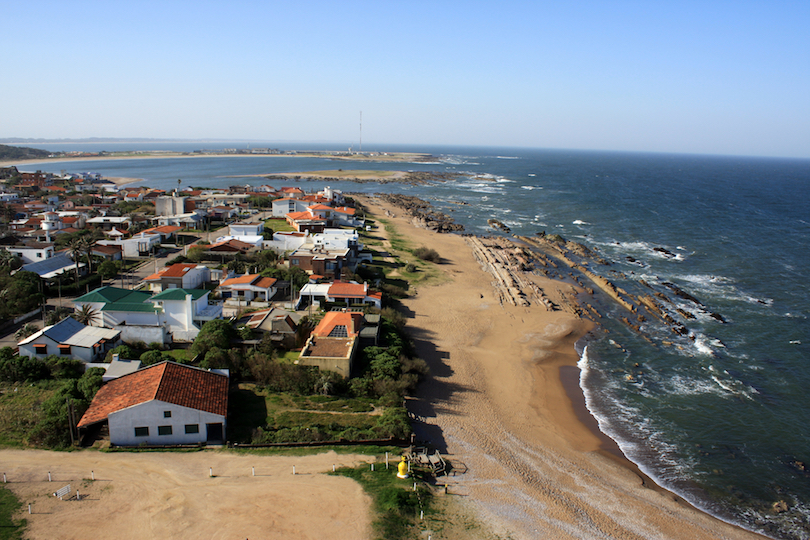 A small city, La Paloma lies on the coast of the Atlantic Ocean and is a popular summer beach resort amongst South Americans and Uruguayans themselves, who flock here to enjoy the sun, sea and sand. With spectacular beaches, this laid-back city is great to visit and there are lots of fun watersports for you to try out such as surfing, sailing and windsurfing.
One of the best beaches for sunbathing is Anaconda Beach, where watching the sun set over the ocean is absolutely divine. Perfect for those who are looking to kick back and relax, La Paloma's remote location makes it ideal for a quiet and peaceful holiday by the beach.
9. Santa Teresa National Park
[SEE MAP]
Bordering the laid-back Punta del Diablo is the marvelous Santa Teresa National Park which nature lovers will absolutely adore as it encompasses a diverse array of landscapes, ecosystems and fauna and flora. Much of the park is made up of lovely forests and seasides areas.
There are loads of great hiking trails that cut through the dunes and woods where visitors may catch a glimpse of some of the wildlife that resides within the park. It is actually here that a large battle took place when Uruguay was striving to win its independence.
One of the major historical sites here is the impressive Fortress of Santa Teresa which dates all the way back to 1762 and is located in between the wetlands in the park and the Atlantic Ocean. Definitely worth visiting, the nature and history on offer in Santa Teresa National Park will live long in the memory.
8. Punta del Diablo
[SEE MAP]
A popular place to visit among Argentines and Uruguayans looking to head to the beach and bask in the rays, Punta del Diablo is a lovely place to visit and despite recent development projects still has the feel of a picturesque and charming little fishing village.
With beautiful beaches and a laid-back way of life, it is a relaxing place to simply kick back and watch the world go by. As you can imagine, there is also some delicious seafood for visitors to enjoy.
With loads of outdoor activities on offer, you can be horseback riding over the dunes one minute, learning to surf the next and trying your hand at dune boarding later on in the day. Not far from Punta del Diablo are some fantastic nature reserves such as Santa Teresa and Cerro Verde, which are also well worth visiting.
Located near the spot where the Rio de la Plata and the Rio Uruguay join, Carmelo is an increasingly popular tourist destination and with good reason, as it is dripping with charm, as wonderful old buildings and cobbled streets make up much of the town.
The waterfront is lovely to wander along and from here you can take boat trips to the magical Parana Delta which is fantastic to explore. There is also a variety of activities for visitors to check out such as fishing, yachting and other watersports.
With some lovely beaches, brilliant wineries in the surrounding countryside, and a casino to boot; Carmelo covers a wide range of bases and has something for everyone to enjoy.
The second largest city in Uruguay, many people stop off here on their way to Argentina. This is certainly is a picturesque place as it borders the majestic Rio Uruguay. Salto is actually named after the falls which make a 'big jump' down near the city.
There are lots of lovely little riverside walks for visitors to enjoy, and the leafy streets and plazas delightfully combine with the wonderful architecture to make Salto a relaxing and laid-back city to visit.
In addition to this, there are soothing thermal springs at Dayman for you to unwind in. They are in stark contrast to the town's huge hydroelectric dam which is bizarrely a popular destination for tourists.
With a very Mediterranean feel to it, Piriapolis' wonderful beaches are great for lounging on, and the long promenade that hugs the waterfront is perfect for relaxing strolls while taking in the sun and river views.
One of the most popular beach resort towns in the country, it was actually created for that reason and so has a number of great hotels, restaurants, bars, casinos and shops, particularly as you get nearer to the coastline.
While the waterfront Rambla is the most popular spot in the city, the delightful Pira's Castle is well worth checking out, and the Hotel Colon is magical to behold. With lovely views of the coast on offer nearby, Piriapolis is a great spot at which to relax after a busy trip's sightseeing.
Located in the north of the country, Tacuarembo is as gaucho as they come and the rolling hills that surround the city are full of cattle and sprawling fields. As such, there is a distinctive cowboy feel about the place, and the culture, language and food here is very different from the rest of Uruguay.
With lovely leafy plazas and tree-filled avenues for you to enjoy, wandering around about town is a delightful experience. It is here that the legendary tango star Carlos Gardel is reputed to have been born.
The main sights on offer include a beautiful cathedral, the picturesque 19th of April Plaza and a couple of interesting museums, while the surrounding area has some nice waterfalls and grottoes for you to visit.
This upmarket beach resort town is so luxurious and fancy that it is often called the Monaco or Saint-Tropez of South America, where yachts, casinos and trendy cocktail bars abound in this playground of the rich.
With loads of bars, restaurants and clubs hugging the beautiful beachfront, it is a fun place to visit although it is quite expensive in comparison with the rest of the country.
The mansions along the seafront really need to be seen to be believed. Watching the sun go down over the ocean at either Jose Ignacio or La Barra is absolutely divine, and there are lots of great watersports for you to try and fantastic museums for you to visit. Alternatively, you can just lounge on the wonderful beaches and simply watch the world go by.
2. Colonia del Sacramento
[SEE MAP]
Rod Waddington / Flickr
The historic quarter of Colonia del Sacramento is absolutely stunning to wander around as it is one of the oldest cities in Uruguay and wonderful colonial architecture and picturesque old cobbled streets are everywhere you look.
Having been ruled at various times by the Spanish and Portuguese who fought over it, there is an interesting mix of architectural styles. A city wall that once protected the city from invaders still runs around the old quarter. Lying next to the Rio de la Plata there some great museums for visitors to enjoy.
Two of the main tourist attractions are the towering lighthouse which offers up great views of the city, and the Basilica del Sanctisimo Sacramento which is wonderful to behold. A charming place to visit, Colonia del Sacramento is well worth checking out when you're in Uruguay and there are lots of great restaurants and trendy boutiques to boot.
The capital of Uruguay, Montevideo is a fascinating place to explore, and visitors to the city invariably come away having loved everything that they've seen and done. Home to nearly half of the country's entire population, it is a bustling place which is full of life, with loads of theaters, art galleries and music venues on offer.
In addition to the lively cultural scene, there is a happening nightlife, with lots of tango bars, trendy cocktail lounges and discos scattered about the city. As the capital of the country, Montevideo has something for everyone to enjoy and the historic downtown area is captivating to explore, with beautiful neoclassical buildings dotted about here and there.
The Teatro Solis which borders the impressive Plaza Independencia is particularly breathtaking to behold. For an authentic look at life in Montevideo, head to the Mercado del Puerto which is full of shops and restaurants selling delicious local cuisine. Then, go for a stroll along the scenic La Rambla which borders the bay. With beautiful beaches nearby and the stupendous Estadio Centenario for football fans to check out; Montevideo really does have it all.
Map of Uruguay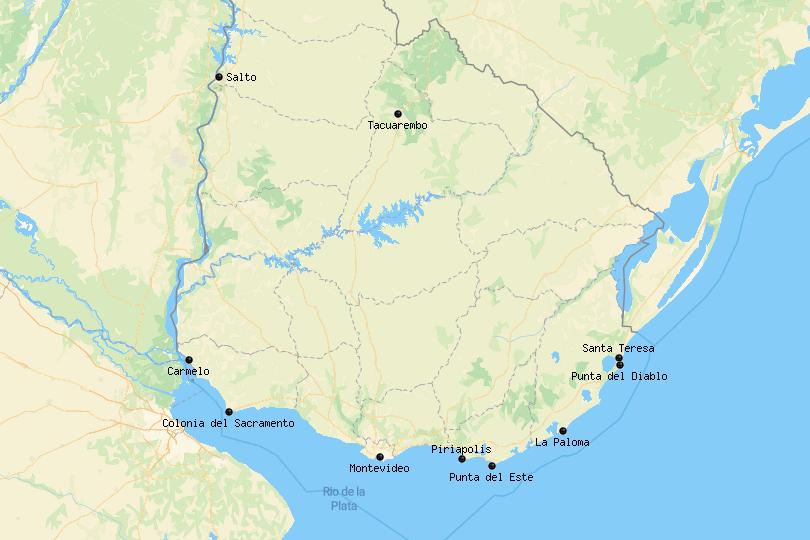 © OpenStreetMap © MapTiler © Touropia