A fascinating country to explore that is still very much off the beaten path, Macedonia is blessed with incredible natural beauty and an intoxicating mix of cultures that draws on both Balkan and Mediterranean influences. Ruled at various times by the Romans, Ottomans, Serbs, and Soviets, there are a wealth of historic sites dotted around the country.
Among the best places to visit in Macedonia are old monasteries and hilltop fortresses. Mosques, Orthodox churches, and amazing archaeological ruins are also prevalent, and many of its cities have delightful Old Bazaars at their heart which date back to Ottoman times.
Map of the best places in Macedonia
© OpenStreetMap © MapTiler © Touropia
Its mountainous landscape is home to glittering lakes and tinkling waterfalls and its three national parks are full of beautiful hiking trails that weave their way amongst the verdant hills and valleys. With its often turbulent past now behind it, Macedonia's wealth of stunning tourist attractions makes it a fantastic, little-known destination that has a plethora of amazing things to see and do.
Famed for the beautiful Byzantine monasteries lying just outside of the city, Strumica is located in the east of Macedonia. The surrounding countryside is full of magical waterfalls and mountains.
A quiet and relaxed city, Strumica is home to some lovely ruins and archaeological sites, such as the Roman Therma and the Carevi Kuli Fortress dates back to the 5th century.
While many people simply stop by on their way to the nearby border crossing into Bulgaria, the stunning countryside, historic sights, and the glittering Kolesino and Smolare waterfalls certainly warrant a longer stay. The best time of year to visit is during the Strumica Carnival, when the whole city comes together to celebrate, with various parades, music and traditional events taking place.
Located beneath a bare hill adorned with the ruins of an old fortress, Prilep is full of history. It was once the ruling seat of a medieval kingdom; as such, there are lots of fantastic churches and monasteries scattered around.
Hiking up to the 10th-century fortress is a must when in Prilep for the breathtaking views it offers of the city down below. On the way, you'll pass lots of strange and marvelous rock formations, such as the intriguing Stone Elephant.
A peaceful, laidback place, strolling around Prilep's Old Bazaar is a lovely way to spend the day. The city's numerous churches all have their own characteristics and distinctive features. The Sv. Blagoveshstenie Church is the undoubted highlight with its delightful galleries and woodcarvings.
8. Mavrovo National Park
[SEE MAP]
The largest national park in the country, Mavrovo has loads to offer outdoor aficionados. Over the course of the year, you can explore its splendid scenery by horseback, kayak or skis, as well as on foot or via mountain bike.
Named after the scenic village located in the park, Mavrovo is home to the country's largest artificial lake. While taking a boat trip on its tranquil waters, you'll get to see the half-submerged St. Nicholas Church, a truly breathtaking sight.
With its wonderful natural beauty, Mavrovo is a lovely park to visit. Because it is home to the country's highest peaks, there is plenty of great rock climbing and skiing to be had in winter, and the views on offer are spectacular.
7. Tikves Wine Region
[SEE MAP]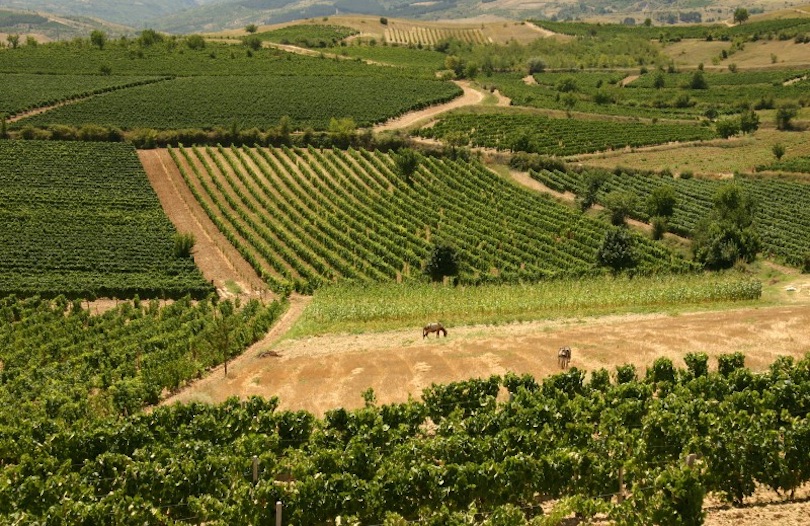 F00700I / Wikipedia
Renowned for the fabulous wine it produces, Tikves' undulating hills and valleys are home to fertile soils and the warm climate makes it perfect for cultivating grapes.
Wine has been produced here since the 4th century BC. The peaceful scenery is charming to tour around while stopping off at picturesque, quaint wineries and vineyards to taste the local produce.
In addition to the fabulous wine and scenery, Tikves Wine Region also has a number of churches, lakes and dramatic gorges for you to stop off at on the way to your next winery.
6. Pelister National Park
[SEE MAP]
Established in 1948, Pelister National Park is a mountainous area which covers the Baba Mountain massif. The reserve is home to a host of endemic animals, among which are bears, wolves, and soaring eagles.
The oldest national park in the country, Pelister is home to two stunning glacial lakes which are nestled away amidst its towering peaks. These are delightfully known as Pelister's Eyes.
With loads of diverse nature on show and a plethora of hiking trails twisting their way amongst the valleys and forests, Pelister is a joy to explore. The views from atop of Mount Pelister will take your breath away – if the hike hasn't already. In addition to all of this, you can camp in the park or go skiing, depending on the time of year.
Located not far from the border with Greece in the south of Macedonia, Bitola is the second largest city in the country. It is full of beautiful old buildings, delightful art galleries and a plethora of welcoming and friendly cafes.
Very much off the beaten path, Bitola is located amongst three different mountain ranges. As such, there is lovely scenery on show, as well as scenic walks amongst the verdant hills and mountains surrounding the city.
In town, visitors will find elegant, pastel-colored townhouses alongside beautiful mosques and churches, while the Old Bazaar dating to Ottoman times is a delightful place to grab a coffee and people watch. With a lively cultural scene, lots of festivals take place here over the year. Among the museums, the Museum of Bitola is particularly worth checking out; it provides a fascinating look at the city's history and culture.
Founded in the 4th century BC, Bitola is one of the best places to visit in Macedonia. Just out of town are the amazing archaeological ruins of Heraclea Lyncestis, which are not to be missed. The Roman site is home to some splendid floor mosaics and the ruins of Roman baths.
4. Galicica National Park
[SEE MAP]
Located between Lakes Ohrid and Prespa, the stunning Galicica National Park is a wild and wonderful place to visit. Hiking amongst the unspoiled and untouched valleys, forests and mountains will certainly delight nature lovers.
Dominated by the Galicica limestone massif that lies between the two lakes, the national park is home to a number of lofty peaks. From their summits are some breathtaking views of the surrounding countryside.
With picturesque little mountain villages, an abundance of fantastic fauna and flora, and a diverse landscape that encompasses lakes, mountains and valleys, Galicica National Park's natural beauty is well worth checking out when in Macedonia.
Macedonia's capital is an intriguing and interesting place to visit, in large part due to its eclectic architectural collection that includes beautiful Ottoman-era mosques, enormous Neoclassical buildings, and a huge array of gleaming, modern statues.
Inhabited for over six thousand years and ruled by countless empires and kingdoms, Skopje certainly has its fair share of historic sights. Among the most popular are the impressive 6th century Kale Fortress and the Stone Bridge, which both feature on the city's coat of arms. Wandering around the Skopje's atmospheric Old Bazaar will make you feel like you're in the souks of old Istanbul.
Alongside its wealth of restaurants, shops, museums, and cafes, Skopje also has some great nightlife to offer, which revolves around the city's main square. The square is home to the Porta Macedonia, a huge triumphal arch that celebrates twenty years of Macedonian independence. Lovely views and scenery are also on hand from the top of Mount Vodno that looms over Skopje to its southwest; it is adorned by the towering Millennium Cross, which is now a popular tourist attraction.
Located on the banks of the Vardar River, Skopje is certainly worth visiting when in Macedonia. While critics say it now has a theme park feel to it due to the recent proliferation of nationalistic and, at times, tacky monuments and statues, there is much to see and do of interest in this unique city.
Sometimes known as 'the Jerusalem of the Balkans,' as it was once home to 365 churches, Ohrid is a very historic town that is among the most beautiful and atmospheric in Macedonia.
Wandering around its old cobbled streets is a treat; you will pass by some delightful architecture and its quaint little restaurants and cafes make for a perfect stop when you feel like taking a break to watch the world go by. Among its most popular attractions is the captivating Samuil's Fortress which overlooks the town, and the Church of Saints Clement and Panteleimon – one of the most impressive of the numerous churches in Ohrid.
What really sets Ohrid apart, however, is its beautiful location on the shores of Lake Ohrid. The town is blessed with numerous breathtaking views out over the turquoise waters. As well as taking a scenic stroll along the town's shoreside boardwalk, visitors should not miss out on Saint John at Kaneo Church for the incredible panoramas it has out over the lake.
Lying on the border between Macedonia and Albania, Lake Ohrid is spectacular; its beautiful clear blue waters glisten in the sun surrounded by mountains. Tourists are only now slowly returning to its shores after the break-up of Yugoslavia in the '90s.
One of the deepest and oldest lakes in Europe, Lake Ohrid is a very important and biodiverse ecosystem. It is home to a vast array of species that are endemic to the area, such as predatory fish and freshwater snails.
Its weaving shoreline is just as picturesque as its mirror-like waters; quaint villages and towns such as Ohrid and Struga are tucked away amongst glorious forests and alongside peaceful beaches. With loads of watersports, boat trips and swimming spots on offer to complement the incredible scenery, Lake Ohrid is one of the Balkans and Macedonia's hidden gems.