An amazing country with a wealth of fascinating tourist attractions, Turkey is a dream to travel around. On this 7 Days in Turkey Classic Tour, each incredible sight will seem more majestic than the last. Over the seven days, you'll gain a greater understanding and appreciation of Turkish culture, history, and cuisine. Shooting around the country in a minibus, you'll travel in comfort and ease.
While Turkey has a plethora of places of interest, this tour will introduce you to some of the must-see sights; you'll visit attractions such as the ancient city of Ephesus, the hot springs of Pamukkale, and the underground cities of Cappadocia. With six nights of hotel accommodation also included, this tour will show you some of the best of what Turkey has to offer.
Highlights
Wander around the battlefields of Gallipoli
See the miraculous pools of Pamukkale
Visit ancient Ephesus and Troy
Explore the underground cities of Cappadocia
Day 1: Gallipoli Battlefields
Departing from Istanbul in an air-conditioned minibus, your seven days in Turkey starts off with a visit to the Gallipoli Peninsula, home to such a fascinating array of historic sights. Located in the European part of Turkey, the peninsula was the site of the famous Gallipoli Campaign that took place during the First World War.
Much of the first day is devoted to exploring the battlefields and the touching Lone Pine and Chunuk Bair Memorials. With your professional guide on hand to tell you all there is to know about the Gallipoli Battlefields. Exploring the trenches and tunnels will make you feel as though you've stepped back in time. For lunch, you can explore some of the local eateries which have delicious Turkish cuisine on offer.
After lunch, strolling around Johnston's Jolly cemetery is a moving affair, and visits to ANZAC Cove and The Nek will shed more light on how the historic battle progressed. The first day of the tour ends with a sumptuous meal at your hotel alongside your travel companions.
Day 2: Troy, Acropolis of Pergamum
Today, you'll head to the historic Troy, which is renowned around the world for the famed Trojan Horse, which helped invaders to best the city's defenses. There has been much speculation over the centuries as to Troy's actual location; common consensus amongst historians is now that the spectacular ruins in Hissarlik are where Troy once stood.
After exploring the mesmerizing site and learning all about the history of Troy, it is time to take a break and have a lovely lunch. In the afternoon, the tour takes you to the absolutely stunning acropolis of Pergamum; the ancient columns standing against the deep blue sky makes for a great photo.
Once an important cultural and political center, Pergamum's time has long gone, although it still remains a fascinating site to visit. After a busy day sightseeing, you can kick back, relax and have a wonderful dinner at your hotel before calling it a night.
Day 3: Ephesus, Kusadasi
Once a city of ancient Greece, Ephesus is home to one of the Seven Wonders of the Ancient World. The archaeological ruins on offer are captivating to explore as they are steeped in history. The undoubted highlight of your guided tour around the ancient city is visiting the site of the marvelous Library of Celsus. This library was built around 100 AD, although it must be said that the theater and Temple of Artemis are equally special to wander around.
After lunch, it is time to head to the village of Sirince – famous for its sumptuous fruit wines. Here, you'll learn how carpets are made and how to value them; carpet weaving is a long-standing tradition in Turkey. Having concluded the day's activities, you'll be taken to the wonderful beach resort town of Kusadasi, where you can try classic Turkish dishes like Manti, Iskender and Sis Kebab.
Day 4: Pamukkale, Hierapolis
Start the day off with a lovely breakfast in your hotel before heading to a nearby artisanal workshop to see and learn about some locally-produced leather goods are made by local craftsmen. After that, it's off to the wonderful site of Pamukkale – which delightfully means 'cotton castle' in Turkish. It's named for the white calcium terraces found here and the landscape promises to be unlike anything you've ever seen.
After taking in the wonderful views, your guide will take you around the ancient city of Hierapolis, which lies right next to the brilliant white terraces. There are loads of interesting sights for you to enjoy, such as Domitian Gate, the Necropolis, and the incredible theater which is well-preserved.
Another great day comes to a close as you take a drip in the perfect turquoise waters of Pamukkale's hot springs, which have been used since Roman times for their healing powers.
Day 5: Silk Road, Konya
© Richard Billingham / Dreamstime
On the fifth day of your tour around Turkey, you'll travel in your minibus along the ancient Silk Road and visit some of the fascinating sights that line this historic trade route which once connected East to West. A stop at the Sultanhani Caravansary – dating to the Seljuk Period – offers an interesting look at how traders and merchants were protected in ancient times.
After that, it's off to the wonderful Mevlana museum in Konya, which is so spectacular to behold. Home to the mausoleum of renowned Persian Sufi poet Rumi, the museum is delightful to explore. The architecture must be seen to be believed; much of it was built during the reign of Suleiman the Magnificent. The collection of ancient Korans, prayer mats, and musical instruments will help you gain a greater appreciation and understanding of Turkey's rich cultural heritage.
Once you arrive at your hotel in the evening, you can either take part in a traditional Turkish folklore evening or enjoy some free time exploring Cappadocia.
Day 6: Cappadocia, Goreme, Underground City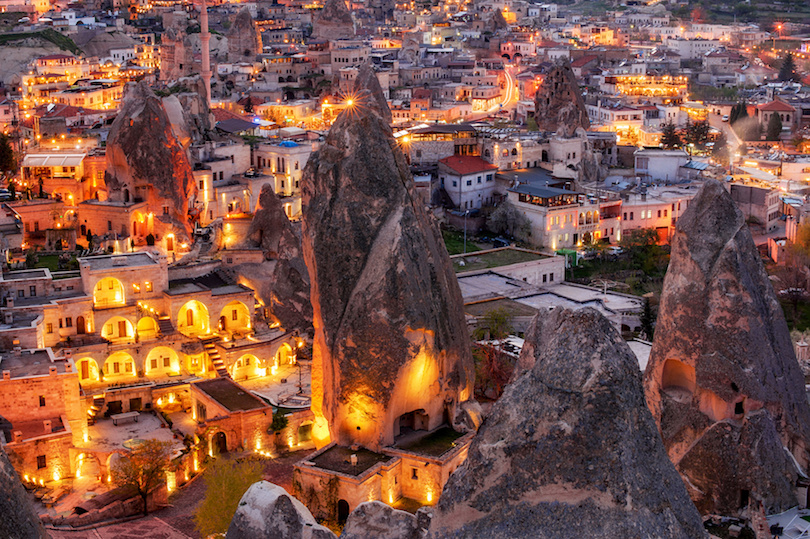 Day six of your tour promises to be special, as you visit Cappadocia; one of Turkey's most popular tourist destinations. Its lunar-like landscapes, with fairy chimneys dotted about – are spectacular to behold. The Goreme Valley Open Air Museum is the perfect place from which to gaze in awe upon this mesmerizing sight. Here, your guide will take you around the incredible churches hewn into the rock. Inside, you'll find some delightful frescoes. Many of the sites date back to the 10th, 11th and 12th centuries.
After lunch, it's time to head below ground and explore one of Cappadocia's underground cities. These warren-like cities feature houses, stables, courtyards and more, connected by an amazing system of tunnels. Fascinating to wander around, your guide will tell you all about the history of Cappadocia and how people used to live in this incredible place.
Day 7: Ankara, Istanbul
The last day of the tour sees you eat breakfast at your hotel in Cappadocia before heading to the nation's capital – Ankara. Here, your guide will take you around Anitkabir – the impressive mausoleum of the founder of modern Turkey. Mustafa Kemal Ataturk is held in high regard in the country; visiting his mausoleum will offer up new insights into Turkey's history and culture and is not to be missed.
From there, your minibus will take you back to Istanbul, where your trip concludes and you can begin your own adventure exploring amazing Istanbul.