Sometimes the exotic sights, sounds and smells of a city like Marrakesh can overwhelm us. When this happens it's time to get out of the city for a few hours and recharge our batteries. While you won't find the fairy tale castles of Europe on these day trips from Marrakesh, you will find deserts and mountains that have a scenic beauty all of their own. You'll also find picturesque Berber villages with their multi-colored adobe buildings as well as some good fishing and beaches, and even spectacular waterfalls.
Popular Tours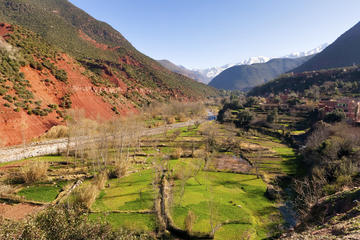 263 reviews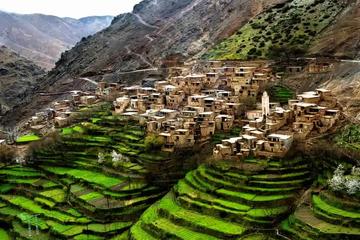 236 reviews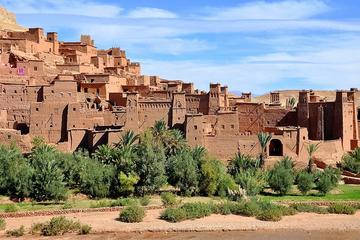 153 reviews
wikipedia/Yassir Najih
If you want to experience a desert environment, Takerkoust Lake is a good place to visit. The Agafay Desert, where the lake is located, is a lot closer than the Sahara Desert. Takerkoust Lake was built by the French in the 1920s to provide water and electricity to Marrakesh. The lake is a good place to spend the day outdoors. You can go fishing – perch and black bass are trophy-size, paddle boating or jet skiing. You can take a hike or ride a horse. Couch potatoes can indulge in massage, soak tired traveling feet in an outdoor foot spa, or practice yoga in a room with a view.
If you like to hike in the mountains, Imfil offers the perfect opportunity for you. Located in a valley in the High Atlas Mountains, it's a good point to begin your trek to Mt. Toubkal, northern Africa's highest mountain. About 60 km (37 miles) south of Marrakesh, Imfil caters to hikers and climbers, but it's easy enough to find other things to do: wander around a small Berber village with its tiny adobe houses, watch women wash clothes n the river, shop for handicrafts in stores or sip tea atop the Kasbah. In other words, Imfil is a great place to chill out and relax after the busyness of Marrakesh.
If you've seen Lawrence of Arabia, Game of Thrones or Gladiator, then you've seen Ouarzazate on the screen. This old Berber town has been featured in many movies and has even stood in for Tibet, half a world away. Visiting the famous movie studios is just one thing you can do here. Nestled between the desert and the mountains, Ouarzazate projects a stunning profile with adobe buildings that match the color of the mountains. Take some time to wander through the town, once a stop on the camel trade route. You can also take a ride in the desert or visit the nearby Ait Benhaddou, one of the best preserved Kasbahs.
flickr/marfis75
Essaouira is an anomaly among coastal towns: It doesn't get a lot of beachcombers or sunbathers for much of the year. It does, however, get a lot of windsurfers. High winds have earned this former Portuguese fortress town the title of "Wind city of Africa." But there's plenty to do away from the Atlantic coast beaches. You can wander through the old medina, take in the 18th century European architecture for which the city is known, or buy some locally made wood carvings. Take in the annual Gnaoua World Music Festival or watch goats climb the argan trees.
Located in the Grand Atlas Mountains about 150 km (90 miles) northeast of Marrakesh, Ouzoud Falls is one of Morocco's natural wonders. The picturesque falls tumble 110 meters (360 feet) over the cliffs, so be prepared to see pretty rainbows. Some say Ouzoud means "the art of grinding grain" in Berber so you'll see old grist mills still in use if you go into the caves. Others say Ouzoud means "olives," which is reasonable, too, since you walk through olive trees to the falls. It's possible you'll see macaque monkeys as you make the hour-long walk to the falls.
If you need to escape the searing heat of Marrakesh summers, do what the locals do: visit the very scenic Ourika Valley Temperatures are much cooler in this High Atlas Mountains valley. The prettiest time to visit, however, is February through April when the valley is abloom with wildflowers, and cherry and almond blossoms. Sitti Fatma is a popular weekend resort and close enough to Marrakesh that many visitors ride out on motor scooters where they'll picnic by scenic waterfalls and streams. The best skiing in Morocco is at Oukaïmeden, which is also known for prehistoric rock carvings.
With a day trip from Marrakesh to Ait Benhaddou, you can relive the days when caravans of camels carried trade goods between the Sahara and Marrakesh. This ancient city is known for its earthen clay architecture of terraced housing built on a hillside and surrounded by a wall. Ait Benhaddou is so scenic, it's been featured in many films, including The Man Who Would be King and Jewel of the Nile. Ait Benhaddou Is the most famous ksar (fortified village) in the Ourila Valley. Words such as "awesome" and "spectacular" are not adequate to describe this very picturesque old city.