Vast and diverse, China is a giant of a travel destination. With more megacities than any other country in the world, as well as the country with the largest population, any visit to this Asian giant is a beguiling and engaging mix of charming traditional culture and modernity.
With 53 diverse ethnic groups and more than 292 spoken languages, each destination in China is different from the last.
Visitors making their first trip to China usually stick to the larger cities. More experienced visitors to the Middle Kingdom will strike out in other directions, where traveling may be a bit more frustrating because of the language barrier, but most definitely doable for independent travelers. With so much on offer, the only problem is how to fit all the best places to visit in China into just one trip?
Map of Places to Visit in China
© OpenStreetMap © MapTiler © Touropia
In this post, we'll cover:
17. Kunming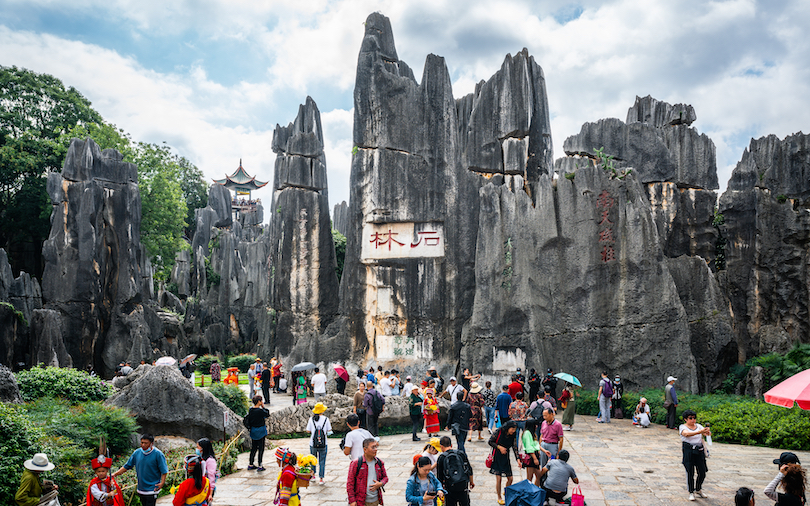 Kunming, the capital of Yunnan Province, is the economic, transportation and cultural center of southwest China. It is linked by rail from all of China's major cities as well as with Vietnam; the rail link with Hanoi was established in 1901. Caravans to Southeast Asia, Tibet and India have passed through Kunming since the third century BC.
Kunming's mild climate makes it a good place to visit any time of the year. It has cool, dry winters though summers can be hot and humid. Growing conditions are great for flowers, with more than 400 varieties grown here.
The camellia is the city's official flower. The city also is known for its lush green parks, such as Cuihu (Green Lake) Park with its waterways and winding paths. Younger travelers may enjoy a visit to Daguan Park because of its funfair and food stalls.
In addition to its own charms, Kunming serves as a base from which to explore the rainbow of ethnic minority in the area. The most well known nationalities are the Dai, Bai and Naxi. Another popular day trip is to the Shilin Stone Forest that has been known as the "first wonder of the world" since the Ming Dynasty. Located 120 km (75 miles) from Kunming, the stone forest features awesome rock formations in various formations.
16. Macau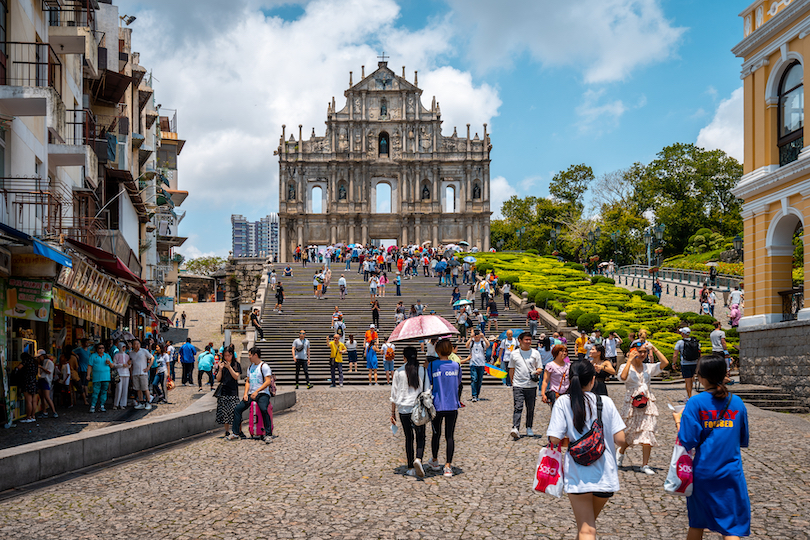 Located on the western side of the Pearl River Delta, Macau is a major gambling destination that is home to luxury resorts, glitzy casinos, and world-class entertainment. The city is set on the South China Sea, not far from Hong Kong and Shenzhen, and is known as the 'Vegas of China'.
As the Portuguese ruled it for four centuries, Macau exhibits a fascinating mix of Chinese and Portuguese customs and cuisines. Interesting historic sights also abound, with churches, temples, and fortresses found among the colorful colonial-era buildings of Old Macau.
While the Macau Peninsula has lots of important landmarks and several fantastic museums on offer, most people come for its casinos. These are not only home to every type of slot machine and gambling game imaginable but lots of restaurants, bars and hotels. In addition, they sport large shopping complexes and their theaters put on lots of mesmerizing performances and music concerts.
15. Tiger Leaping Gorge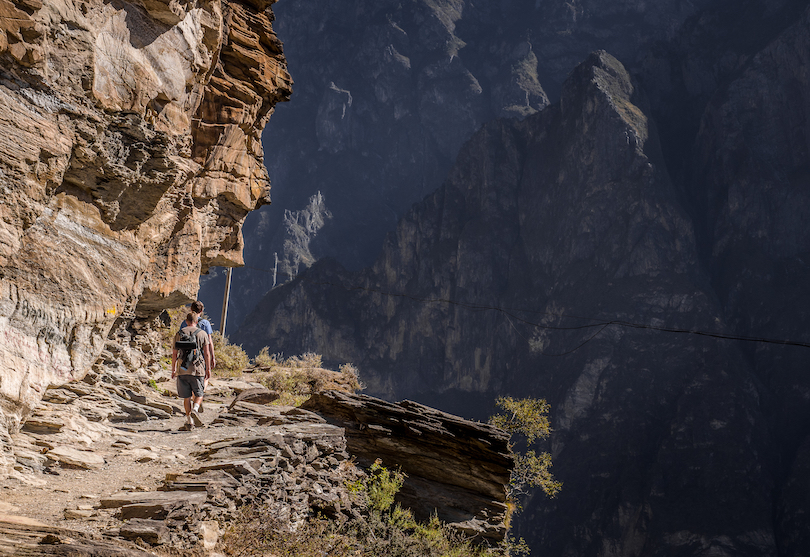 Cutting dramatically through the rugged landscapes of Yunnan Province, Tiger Leaping Gorge is one of the deepest, most scenic, and spectacular river canyons on Earth. Located just to the north of Lijiang, the gorge follows the Jinsha River as it passes terraced farms, quiet villages, and snow-capped peaks.
Stretching around 16 kilometers, the gorge winds between Jade Dragon Snow Mountain and Haba Snow Mountain, both towering to more than 5,000 meters. Together, the majestic mounts and Tiger Leaping Gorge make for some of China's most arresting natural sights and scenery, with breathtaking views on offer.
Due to its natural beauty, hiking along the gorge's narrow trail is increasingly popular; this takes you past roaring rapids, sparkling waterfalls, and rugged cliffs. In addition, you can stay in secluded villages and guesthouses to learn more about the Naxi people's rich culture and history.
14. Leshan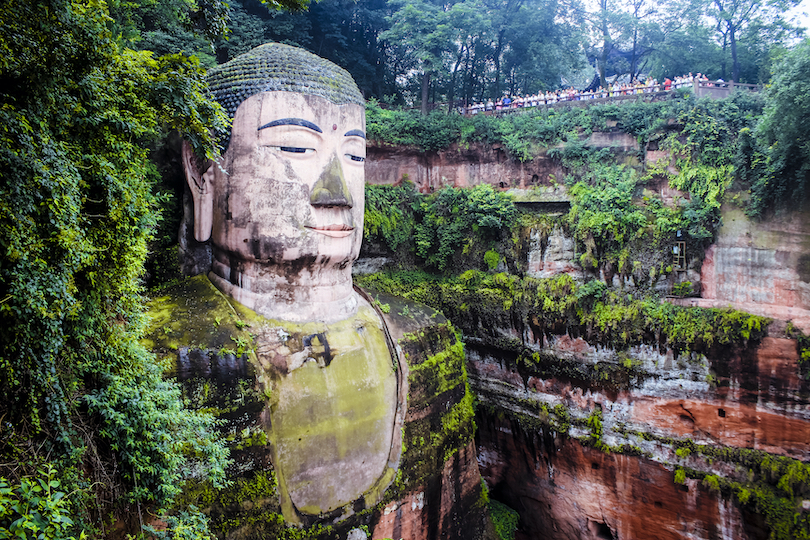 Located in Sichuan Province in southwest China, Leshan lies at the spot where the Dadu, Min and Qingyi rivers meet. The city is home to the largest stone-carved Buddha in the world and known for its proximity to the Mount Emei Scenic Area's lovely scenery and historical attractions.
Although often overlooked, Leshan has an abundance of restaurants, cafes, and accommodation options, and boasts a thriving culinary scene. Scattered around town are many interesting sights, such as the famous writer Guo Moruo's Former Residence and the Oriental Buddha Park, home to thousands of amazing statues and carvings.
The main reason people visit, however, is for the Leshan Giant Buddha, which towers to a staggering 71-metres. Built during the Tang Dynasty, the stunning sandstone sculpture is hewn out of the solid cliff face and looks out over the Min and Dadu rivers. Lying nearby is Leshan's other highlight, Mount Emei, home to 76 Buddhist monasteries and plenty of lovely natural scenery and wildlife.
13. Suzhou
Long famed for its elegance, beauty, and culture, Suzhou lies just to the northeast of Shanghai, in Jiangsu Province. Set on the shores of Lake Tai and the lower reaches of the Yangtze River, the city is full of pretty canals and stone bridges; leading to its nickname, the 'Venice of the East'.
Although in recent years, China's rapid development has seen a myriad of modern buildings spring up, Suzhou still boasts age-old pagodas and scenic streetscapes. The city has four classical gardens, with the Lingering Gardens, with its four distinct sections, is considered a masterpiece garden in China.
The gardens are delightful to stroll around and feature rocks, trees, pavilions, and lakes, all harmoniously put together. The Grand Canal, which connects Beijing and Hangzhou, runs through Suzhou, spawning a network of canals throughout the old city.
Founded over 2,500 years ago, Suzhou is a major center of Wu culture and was at one point the capital of the kingdom of the same name. As such, impressive historical sights can be found around town, while a number of excellent museums shine a light on its fascinating history and heritage.
12. Lijiang
Nestled away in the northwest of Yunnan Province, Lijiang is a pleasant and picturesque place with a timeless look and feel. Once the capital of a small kingdom, the city boasts one of the best-preserved historic centers in China and is a popular tourist destination.
At the heart of Lijiang lies its magnificent Old Town, home to pretty canals, old stone bridges, and winding cobbled streets. Its myriad of beautiful wooden buildings exhibit elegant traditional architecture, with the expansive Mu Palace complex being a highlight. Hidden away among its narrow alleys are some charming tea shops and restaurants for you to try.
Besides its many historical sights, Lijiang is noted for being the main center of the Naxi people; their rich culture and heritage is on show wherever you go. At the cultural hall, for instance, you can enjoy a traditional music performance, while a number of interesting and informative museums can be found around town.
11. Wulingyuan
Located just outside the small city of Zhangjiajie in northwest Hunan Province, Wulingyuan boasts some of the most impressive and spectacular landscapes in China. Part of the Wuling Mountain Range, the scenic area is particularly famous for the thousands of pillars and peaks that punctuate the park.
Often shrouded in mist, these karst formations look incredible, and many of them tower over two hundred meters high. Covered in sub-tropical rainforest, they rise above plunging ravines and deep gorges, with sparkling rivers, lakes, and waterfalls found here and there. In addition, the park is home to countless caves and Tianqiashengkong – one of the highest natural bridges on Earth.
Hiking around Wulingyuan's awe-inspiring landscapes really is a treat, and many of its narrow trails pass along steep clifftops and death-defying drops. From its picturesque and at times perilous paths, you can enjoy exquisite panoramas of the park's unique landscapes.
10. Dali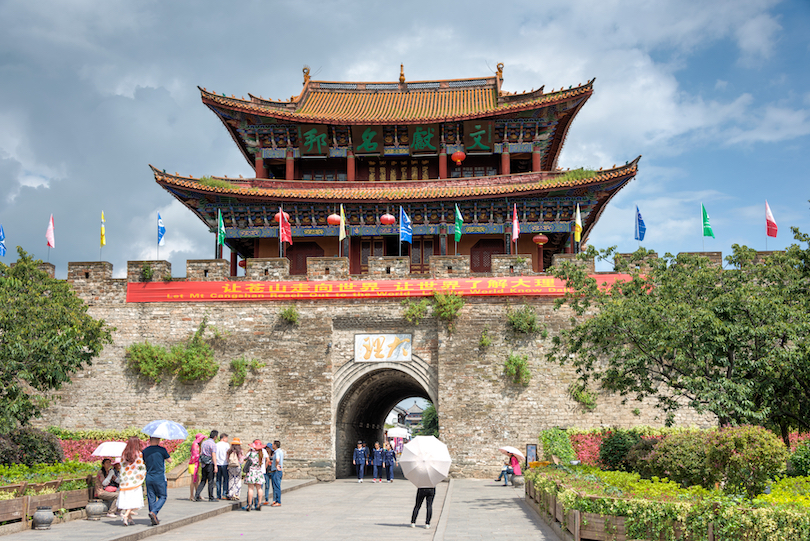 Lying on the shores of the shimmering Erhai Lake with magnificent mountains rising all around it, Dali has long been a popular tourist destination. Located in Yunnan Province, the small city is mostly known for its scenic setting, rich cultural heritage and lovely old town.
Over the centuries, Dali was the capital of several kingdoms, so interesting and impressive historical and cultural landmarks can be found around town.
Most of the beautiful buildings in the old town date to the Ming Dynasty, with its ancient city walls, Three Pagodas, and Chongsheng Temple counting among its main sights.
Many great museums are also scattered around, while the lake and nearby mountains offer a wealth of outdoor recreation activities. Hiking, horseback riding and rock climbing in the Cangshan Mountains are all very popular, while Erhai Lake's shores are home to secluded and scenic villages and ancient towns and temples.
9. Jiuzhaigou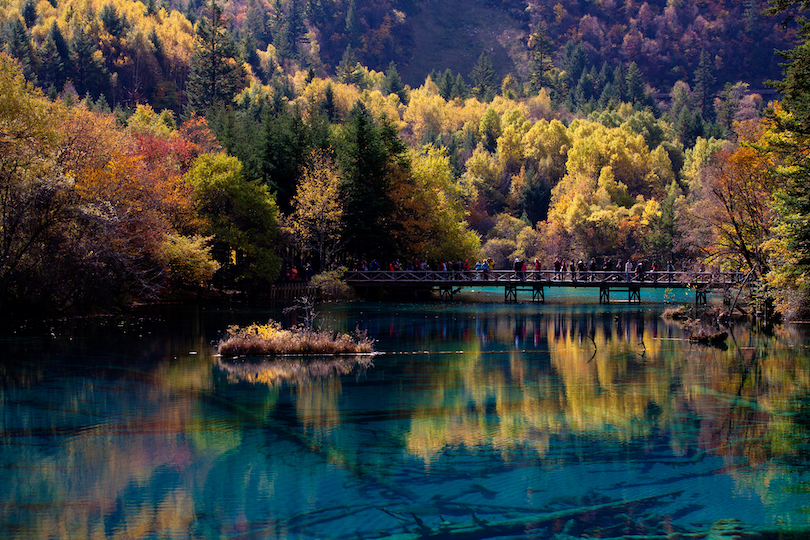 Jiuzhaigou Valley is a place that will appeal to travelers who enjoy the great outdoors and like their scenery pristine and uncluttered. A national park in Sichuan Province, it is home to several Tibetan villages, offering visitors a chance to see another lifestyle without having to brave the high altitudes of the Himalayan region. The region's name means "nine Tibetan villages."
The national park has been described as a fairyland because of its many waterfalls; snow-covered karst mountains, and its 108 blue, turquoise and green colored lakes that are so crystal clear one can see the bottoms. It is also the habitat of giant pandas, though the chances of seeing them are slim due to the park's size and the number of tourists.
8. Hangzhou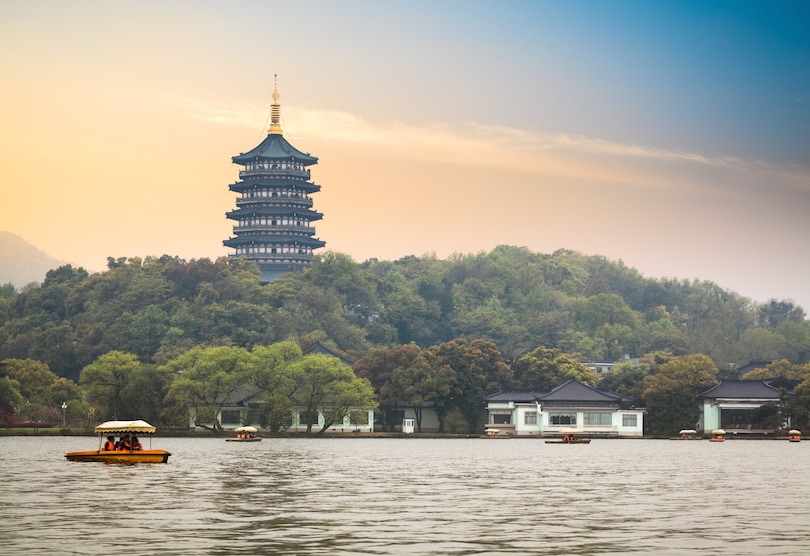 Hangzhou is the capital city of the Zhejiang Province. Famed for its natural scenery, Hangzhou and its West Lake have been immortalized by countless poets and artists. In the 13th century Marco Polo described the city as the most beautiful and magnificent in the world.
Hangzhou's most famous sight, West Lake is a large lake separated by causeways and lined with ancient buildings and gardens designed for relaxation and spirituality. Visitors will find pagodas, temples, walking paths, sitting areas, tea farms and a museum along its shores and sometimes jutting over the water. Tea is an important part of the West Lake experience. Dragon Well tea produced there is one of the most famous teas in China.
While West Lake arguably offers the best that Hangzhou has to offer in terms of Chinese architecture, gardening and landscapes, Xixi National Wetland Park features a traditional temple and several homes, as well as a being a good representation of local wildlife and its habitat. The Botanical Garden and zoo provide typical city entertainment, but in a distinctly Chinese setting.
7. Yangshuo
Yangshuo in south China was once a magnet for backpackers because of its cheap prices and laid-back atmosphere, but today it draws all sorts of travelers to enjoy its scenic beauty.
Yangshuo makes a good base to take day trips throughout the area. A favorite activity is to take a boat between Yangshuo and Guilin for a leisurely trip on the Li River, known for its beautiful scenery and karst mountains that have been made famous by photographers and painters all over the world. Many travelers choose to rent bicycles for the trip back, since the route is relatively flat and gives them the opportunity to view farmers toiling in their fields.
Yangshuo's other famous sites include Moon Hill, so called because a huge hole in the hill resembles a moon; Assembling Dragon Cave, named after the dragon-shaped peaks that surround it, and taking a class in Chinese from one of Yangshuo's many language schools.
6. Lhasa
Lhasa is one of the most important cities in Tibet and one of the highest elevated in the world at 3,500 meters (11,500 feet). Lhasa, in spite of its absorption into greater China, has retained much of its culture. During the 7th century, Tibet was unified under Songtsen Gampo, who built a palace on Mount Mapori. Over time, Lhasa went in and out of being the capital of Tibet, but it has always remained an important spiritual center.
Lhasa is very important to Tibetan history and is located meaningfully in a Himalayan Mountain valley. The city is home to the Potala Palace, which was the former home of the Dalai Lama. It was constructed on the Red Hill more than 360 years ago. It is composed of two parts, the White Palace, where the Dalai Lama lived, and the Red Palace, where religious study and practice took place.
Another palace in Lhasa is Norbulingka, built in 1755. It was the Dalai Lama's summer palace before his exile. Most noteworthy are the palace's gardens, which stretch nearly 90 acres with the sprawling palace. Other tourist opportunities include visiting Jokhang Market or Chokpori, one of the four sacred mountains of Tibet. To shop traditional wares and souvenirs, go to Barkhor Street.
Lhasa is also still clearly a city under occupation, with armed soldiers standing for the lookout on street corners and rooftops, and constant patrols throughout the city. Non-Chinese nationals are required to obtain a special permit to visit Tibet (Tibet Entry Permit) and hire a tour guide every day they stay in Tibet. This is strictly enforced but details change from time to time.
5. Xi'an
Xi'an is roughly as old as Beijing and serves as the capital city of the Shaanxi Province in northwest China. The history of Xi'an is one of its biggest draws. It was the start of the once indispensable Silk Road that made commerce between many countries in Eurasia possible.
It was the imperial seat for no fewer than eleven dynasties, before the unification of China between 1000 BC and 1000 AD making it one of the Four Great Ancient Capitals of China. Today, it is a cultural and technological center, being home to the Xi'an Aerospace Science and Technology Industrial Base.
Its most famous attractions is the rather recently discovered Terracotta Army, the protectors of the tomb of the first emperor of China. The site of the ancient Daming Palace includes some original structures and some reconstructions that were only opened to the public in recent years.
Xi'an also boast 14th century city walls that are more than 12 km (8 miles) long. They are not only a part of the city history, but traveling in Xi'an sometimes requires going under, on or around them.
Other interesting structures in the city include the Roman Catholic St. Francis Cathedral of Xi'an, the Ming Dynasty Bell and Drum Towers built in the 14th century, and the Islamic Great Mosque. Those who want a more Eastern experience can watch a traditional Chinese opera at the Shaanxi Grand Opera House.
4. Shanghai
Located on the East China Sea and the mouth of the Yangtze River, Shanghai is the largest city and most developed city in China. Nearly a third of China's exports come from the area and it attracts almost a quarter of all the country's foreign investment, more than any single developing country.
Its skyline is filling with skyscrapers while shiny shopping malls, luxurious hotels and prestigious arts centers are rising alongside. The city nights in Shanghai are representative of the Western view of China cities with bright neon signs, bustling streets and numerous businesses.
When it comes to getting around in Shanghai, this city has everything, including an extensive Metro system. The most popular place to go for a stroll is the Bund, Shanghai's colonial riverfront along Huangpu River. While levies have significantly changed the Bund's appearance, a number of architecturally significant buildings are adjacent to the strip and are still visible.
Visitors will see a few remnants of old China in Shanghai. However, the city is markedly modern with futuristic buildings like the Mercedes-Benz Arena and the Oriental Pearl Tower dotting the landscape.
Visiting museums is the best way to get a look at the culture of the area and how it has changed over the years. Moreover, the museums tend to be in interesting buildings as well. These include the Shanghai Natural History Museum, the Shanghai Museum and the Rockbund Art Museum.
3. Great Wall of China
One of the world's greatest architectural and engineering triumphs, the Great Wall of China spans over 6,000 kilometers and is the country's most famous sight. In total, it passes through 15 Chinese provinces. Its watchtowers, gates, and fortifications are strung from the Desert in the west to the Bohai Sea in the east.
Built over the centuries and millennia by various Chinese kingdoms, states, and empires, the wall meanders through treacherous terrain and past some spellbinding scenery. While its earliest segments were built back in the 7th century BC to protect people from raiders, many of its most famous parts date to the Ming Dynasty.
As it snakes across mountains, valleys, and hills, the Great Wall has plenty of stunning scenery for visitors to enjoy. While some parts are very well-restored, others lie in wild and remote regions and are in various states of disrepair. One of the most popular sections of the Great Wall to visit is Badaling, just outside of Beijing, while Jinshanling draws hikers due to its untouched nature and fabulous views.
2. Hong Kong
Located off China's southeastern coast, Hong Kong is a glittering, world-class commercial center where Chinese culture, British colonial influences and modern day high-technology blend together. While it contains the world's highest concentration of skyscrapers and one of the highest population densities, Hong Kong also offers plenty of green spaces, mountain views and beaches.
Some of the must-see attractions include the famous Victoria Harbour, which is a spectacular sight at night with all the dazzling skyscrapers and The Peak, Hong Kong Island's highest hill which offers awe-inspiring views of the harbor.
From amusement parks like Ocean Park and Disneyland Hong Kong to prestigious museums, luxury hotels, bustling night markets, horse racing, beautiful beaches and rides on the world's longest outdoor escalator, Hong Kong has something for everyone.
See also: Where to Stay in Hong Kong
Eating in Hong Kong is an experience all itself with a wide variety of cuisines from international to local Cantonese. A popular food style is dim sum, which involves small portions of food traditionally presented in steamer baskets. Typical dim sum dishes include tasty dumplings with meat, rice noodles, steamed vegetables and soups all served with Chinese tea.
1. Beijing
Beijing is the current capital city and remains one of the most popular places to visit in China. Its history dates back more than 3,000 years and much of that history is still alive within its borders. Beijing literally means Northern Capital, a role it has played many times in China's long history.
It first became notable in Chinese history after it was made the capital of the State of Yan under the name Yanjing. The Mongols seized the city in 1215 and from 1264 it served as the capital of a united China under Kublai Khan. After the fall of the Mongol-founded Yuan dynasty in 1368, the capital was initially moved to Nanjing but was moved back in 1403 and received its present name.
Beijing is home to Tiananmen Square, the Forbidden City, the National Museum of China, as well as the Old and New Summer Palaces. These and other attractions are perfect for observing Chinese gardens, ancient architecture and Chinese culture from a range of periods in the country's history.
There are numerous temples within and just outside of the city for those who want to witness Confucius, Taoist and Buddhist landmarks or perhaps have a spiritual experience. One of the most popular places to view the Great Wall of China is at Badaling, located about an hour from Beijing.
Known for its flatness and regular construction, the city has only three hills and its concentric ring roads are actually rectangular, like the configuration of the Forbidden City. Beijing boasts an extensive public transportation network, which includes an extensive subway system.
There are bike trails, but travelers may find the pollution too oppressive for cycling. For more than 100 years, Wangfujing Commercial Street has been the best place to shop in Beijing. However, the Yashow and Silk Street Markets are also very popular.